«The sixtieth anniversary of La Dolce Vita and the centenary of Federico Fellini's birth are the best opportunity to reconstruct the genesis, production and commercial life of one of the most iconic films in the world», explains Giuseppe Pedersoli, director of the docufilm La verità sulla Dolce Vita.
Pedersoli, son of Bud Spencer and nephew of Giuseppe Amato (producer of La Dolce Vita, Umberto D. and many masterpieces of Italian neorealism), meticulously reconstructs the troubled realization of the most expensive Italian production by far. Amato had convinced his historical partner Angelo Rizzoli to co-finance La Dolce Vita, which then cost twice as much as what they had agreed. The production suffered quarrels, setbacks, ramblings and threats, on a set marked by harsh contrasts between Fellini and the production, which caused the break-up of the 20-year partnership between Amato and Rizzoli.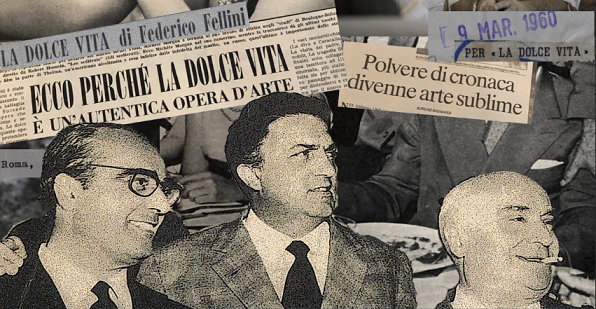 La Dolce Vita then wins the Palme d'Or in Cannes, triumphs at the box office and ends up at the center of a controversy in the Italian and international press. The protagonists themselves tell us what they have experienced through the direct "voice" of their writings, interpreted by actors, the original sequences of the film and archival and current testimonies of Fellini, Mastroianni, Amato, Dino De Laurentiis and many others.
LA VERITÀ SU LA DOLCE VITA
Italy, 2020 Directed by Giuseppe Pedersoli Cast Luigi Petrucci, Mario Sesti Runtime 83′