Orizzonti is the sperimental soul of Mostra Internazionale d'Arte Cinematografica della Biennale di Venezia and has always been an interesting window on the future of cinema, discovering new talents and languages. The awards given this year by the jury led by French director Claire Denis are coherent with this philosophy. Starting with best screenplay for Pietro Castellitto's I predatori that has been praised by the critic as an interesting debut. Castellitto said beautiful things in his speech, starting from a powerful «only traitors and rats are short to give thanks». Holy Words said by talented and wise young man that continued. «Life has not a precise genre. Sometimes is funny, sometimes not. When I wrote the movie I was 22 and it was the only thing I knew, I Predatori is a movie made by characters. I want to dedicate this award to them all. Only legitimizing those who don't share our ideas we can find the strenght to reshape the future. Peace requires confrontation, truth is an adventure. The rest is boredom, presumption and death. We must run with history not with our present».
Best actor went to Yahya Mahayni for The Man Who Sold His Skin by Kaouther Ben Hania, while best actress was won by the excellent Khansa Batma for the much appreciated Zanka Contact. Premio Speciale della Giuria to Listen by Ana Rocha de Sousa that received a few minutes earlier Premio De Laurentiis for best first feature  – Leone del futuro. Her speeches will remain in the history of Venice Film Festival, as much as the incredibly short video messagge by Lav Diaz who won for best direction.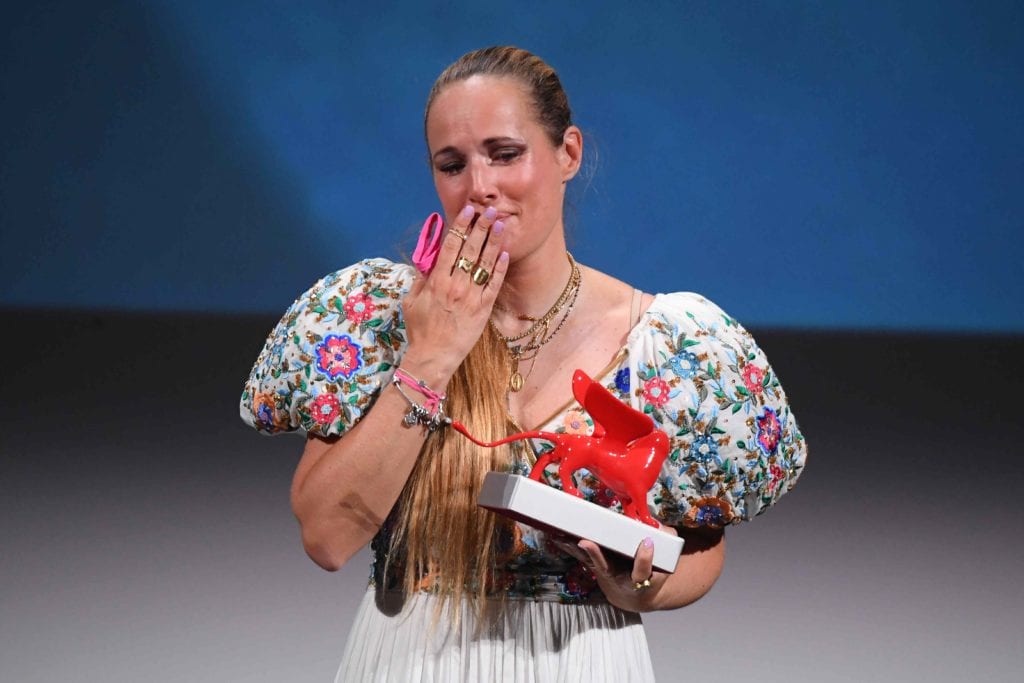 Premio Orizzonti for best picture went to The Wasteland by Ahmad Bahrami, that at the end of his videomessage recalled the difficult situation is facing his country, Iran, because of international sanctions that are hitting especially the struggling population.
«Thanks Venice Film Festival, President of La Biennale Roberto Cicutto and Artistic Director Alberto Barbera to face fears – RAI declares in its press release – in this very peculiar year, achieving a perfect organization and totally safe in a complicated event such an international festival. This edition will be a positive example for the entire world and we are happy to have given our contributionto to this remarkable success thanks to the number (18) and quality of our movies, a strong signal for the reboot of cinema. We are happy for the important award to I predatori by Pietro Castellitto, a young director at his debut that is now incouraged to follow his path. An award that pushes Rai Cinema to infuse our energy and resources to support Italian cinema.
We are aware that verdicts have to be calmly accepted, but it's hard not be a little sad and disappointed because the three movies co-produced by Rai Cinema in the official competition – Miss Marx by Susanna Nicchiarelli, Notturno by Gianfranco Rosi and Le sorelle Macaluso by Emma Dante – were maybe not considered as much as they deserved. Three very different movies, each one with a strong, original and authentic voice as widely recognized by Italian and international critic.
In particular, it's sad that Gianfranco Rosi's Notturno, a movie invited to the most important internationa film festival – Toronto, New York, Telluride, London Film Festival, Tokio and Busan – and greeted with more than minutes of applause and the almost unanimous consensus by the most prestigious international and Italian outlets, has been unable to touch the heart of this jury whose composition didn't represent all forms of cinema. Our congratulations to Pierfrancesco Favino, an extraordinary actor that is always in our heart».