Cicutto and Barbera: «Test Edition Is Working, Even Without Major's Lawyers»
Barbera: «I dream of a pink carpet»
Jasmine Trinca and Clive Owen on the road for Giorgia Farina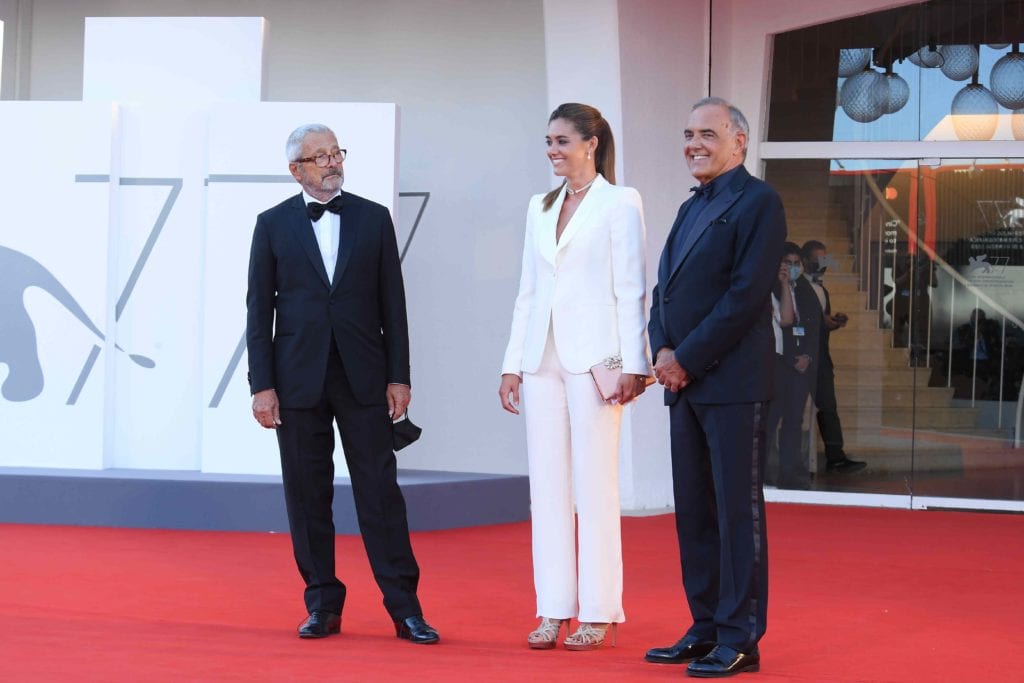 Cicutto and Barbera: «Test Edition Is Working, Even Without Major's Lawyers»
«Test edition is working, we can say that Italy has been the first country that run a film festival safely». Venezia 77, it's time for the first review and Roberto Cicutto, new president of Biennale, and Artistic Director Alberto Barbera underline the successful first seven days of Mostra Internazionale d'Arte Cinematografica despite the infinite list of bonds and issues to overcome once decided to proceed with this year's edition. 
A huge success for Biennale and for Italy that of course have to deal with the lower figures compared to last year. «5.000 accredited versus 12.000 last year and 20.000 tickets sold instead of 80.000». «The quality of movies was satisfying – said Barbera – and there were fewer film to pick». Barbera remembered the number of represented countries («more than 50») and despite the absence of productions from Hollywood major companies that «prevented talents to attend through their lawyers, even those who wanted to attend at their own risk». There was nothing to do «even for the independents such Regina King's One Night in Miami that probably will be run for Oscars, the movie is here but not the talents». 
And while Cicutto makes a joke about the hidden red carpet to avoid gatherings («It looks like a metaphisycal object created by De Chirico, a kind of set more than the usual stage for glamour a fans», Barbera enjoys the positive reviews from the big international press (Hollywood Reporter, The Times, New York Times) and is not bothered by Variety (Cannes Film Festival media partner) that noticed the absence of an afroamerican juror. «They are particularly susceptible in United States right now about this topic, but we are not obsessed about that. The list of people that have been contacted and that were not able to accept our invitation for obvious travel issues is very long». A different reaction about the article published by Le Monde that defines Venezia 77 "an amorphous festival in a mood of constant sanitary alert". «Le Monde averaged with the rest of media that is almost awkard because of the huge amount of praise». The on line booking system could be confirmed next year, avoiding cues and maximizing the handling of theaters.
Flavio Natalia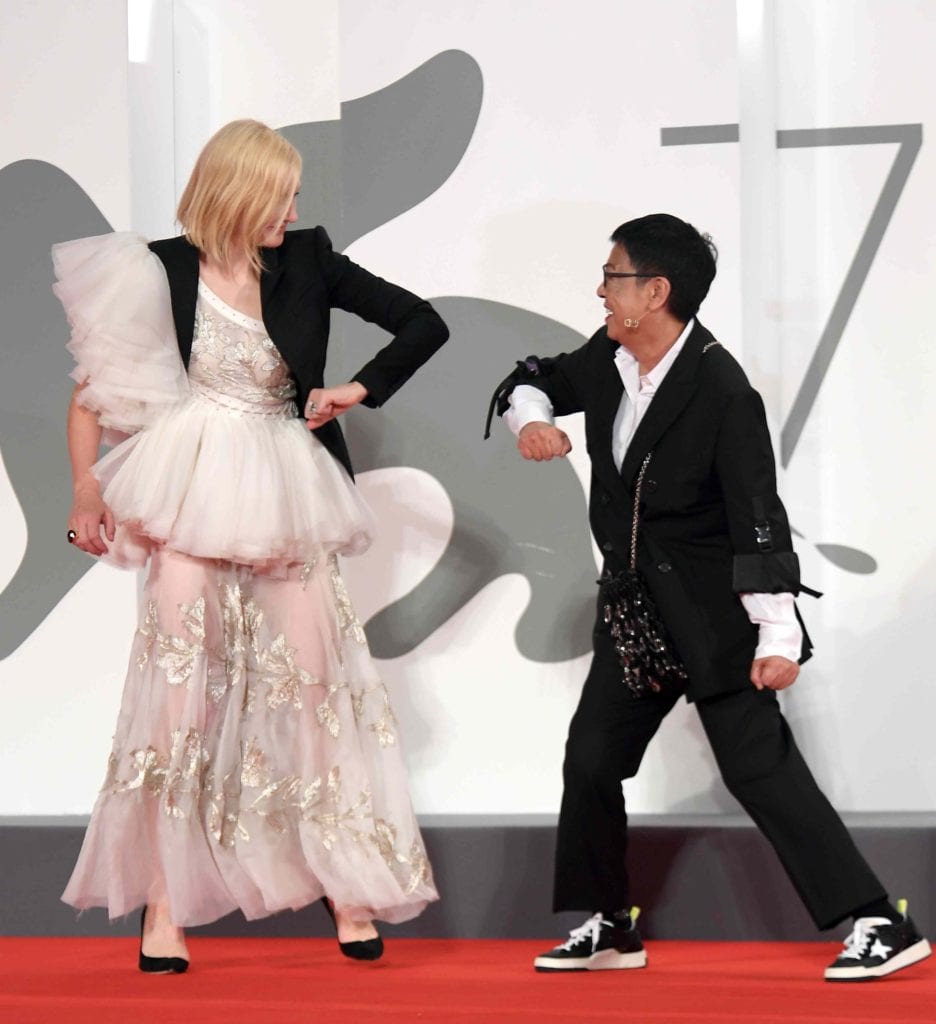 Barbera: «I dream of a pink carpet»
Everybody knew Venezia 77 would have been a women festival. But what about actual presence rates of both sexes in worldwide movie business? It's been debated in dedicated conference at Excelsior yesterday.
«One of my dreams is to turn the red carpet in a pink carpet – said Artistic Director Alberto Barbera – Of course Venice Film Festival can't balance the presence of gender in the business. What we can do, and we are working on it with Biennale College. Two out of four production are directed by women and are here this year. Finding a balance is very fair but we must fight this battle avoiding collateral damages». Luisella Pavan Woolfe was among the speakers.
«The goal – the director of Venice office of Council of Europe – is granting access to production to everyone and giving same chances to everyone». «We must start from basic education – said Anna Laura Orrico, secretary of the ministry for arts and culture – Girls and boys must be targeted since the very beginning and not on the basis of sex. Cinema Law from 2016 layed the foundation to start a balance and foster creativity for women».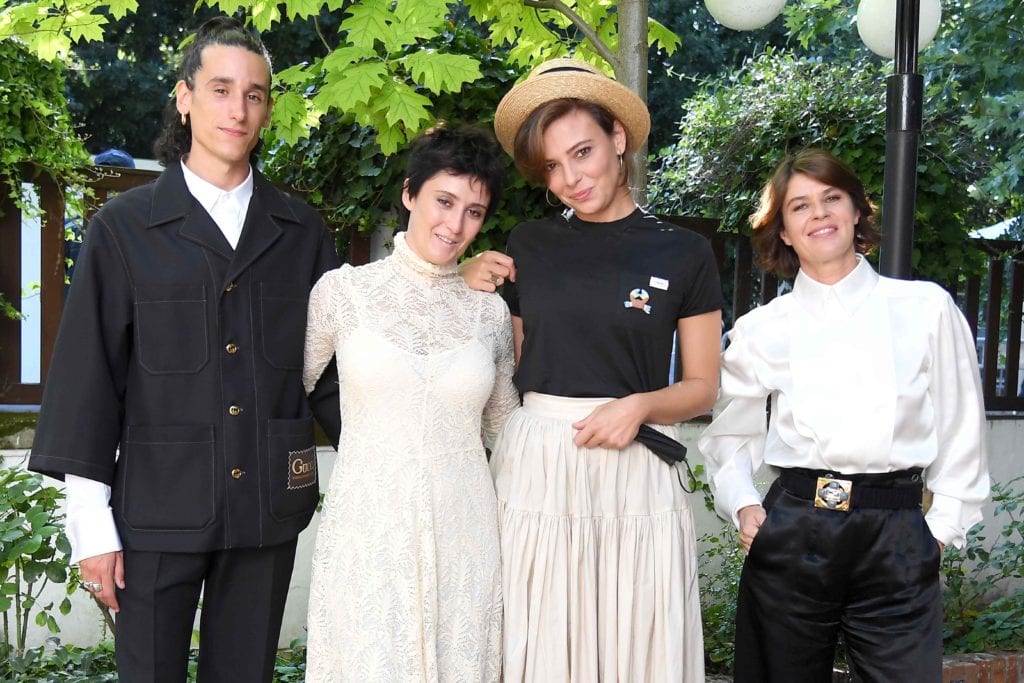 Jasmine Trinca and Clive Owen on the road for Giorgia Farina
Great couple  for Giorgia Farina's Guida romantica a posti perduti (Venice Days). Jasmine Trinca, (Cannes and David winner for role in Fortunata, in Venice for Il grande sogno and David and Silver Ribbon this year for Ozpetek's La dea fortuna) and Clive Owen, Golden Globe winner for Closer and lead of Cuaron's Children of  Men. Trinca (that attended the official screening along with Andrea Carpenzano e Irène Jacob) is Allegra, travel blogger too anxious to actually travel. A character with something in common with the director («Jasmine does not experience panic attack, but I do»), in a movie that handle in a «modern» way psychological disorders and social isolation. Owen is the depressed and alcoholic Benno. 
Owen, as Farina says «has been very open-minded from the very beginning and has often been the bonding agent and led us to dare. He's never tired to be on set». Guida romantica a posti perduti  is a bittersweet comedy on the road where «every step reveals these characters» that are both «extremely incomplete» because living «in a past impossible to go back». Guida romantica a posti perduti has been very appreciated by the audience of International Critics' Week.
Emanuele Bucci