Lacci
Italy, 2020, Directed by Daniele Luchetti Cast: Alba Rohrwacher, Luigi Lo Cascio, Giovanna Mezzogiorno, Adriano Giannini, Laura Morante, Linda Caridi
Runtime: 100'
Daniele Luchetti last time in Venice was in 1998. The movie was I piccoli maestri, based on the novel by Luigi Meneghello and played by Stefano Accorsi, Giorgio Pasotti and Stefania Montorsi. Since then the Italian director attended a different shore, giving the chance to Elio Germano to win a best actor award in Cannes for La nostra vita. Luigi Lo Cascio and Alba Rohrwacher play the main roles in Lacci but they can't run for Coppa Volpi. But opening this year's Mostra del Cinema is quite something.
"We feared about the actual exctinction of cinema as we know it" Daniele Luchetti declared when Lacci was announced as opening event of 77th Mostra Internazionale d'Arte Cinematografica di Venezia. "Movies gave support to each one of us during the lockdown, it was a light in a cave. Today we are more aware that movies, series, novels are essential in our lives. Long live the festivals that allow to celebrate the actual meaning of our job all together. If anybody thought that making movies was useless, now is aware that is a common good. I'm honored to open the first great festival of this unexpected times with Lacci".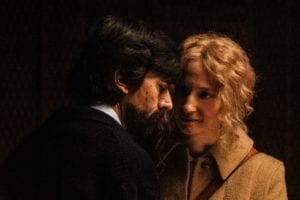 Lacci is the story of Vanda and Aldo. They fell in love, got married, had children. Then something happened and they fell apart. One left for a new place and a new passion, the other stayed with the kids, because someone have to stay. But even if they are separated, they are forever bounded.
Lacci is based on the novel by Domenico Starnone. The writer and Luchetti worked together 25 years ago for The School, a movie as much magnificent as its protagonist Silvio Orlando. "Working with Silvio again after so many years is one of the many beautiful things about Lacci. Such as discovering talented actors I never worked with: Luigi Lo Cascio, Giovanna Mezzogiorno, Laura Morante, Adriano Giannini, Linda Caridi. And I also met Alba Rohrwacher again many years after Mio fratello è figlio unico.
Lacci is written by Daniele Luchetti, Domenico Starnone and Francesco Piccolo, the author of Momenti di trascurabile felicità, Luchetti's previous feature.