Simone Segre is an accomplished surgeon of Jewish origin struggling with a moral dilemma. When, by chance, he finds himself at the scene of an accident whose victim is a man with a Nazi swastika tattooed on his chest, he must decide whether to save him or let him die. An instinctive choice, taken on impulse, which will have repercussions on his life and on the family's, affected by the misfortune.
We chose it because:
A crystal clear example of civil cinema, frontal, like what was done in the past. The direction is controlled, never trivially at the service of the so-called message, always attentive to human and political dynamics, at the service of complexity. Do not hate goes straight to the heart of the anti-Semitism that still plagues our country.
NON ODIARE
Italy, Polond, 2020 Directed by Mauro Mancini Cast Alessandro Gassmann, Sara Serraiocco, Luka Zunic Runtime 96'
Beatrice Fiorentino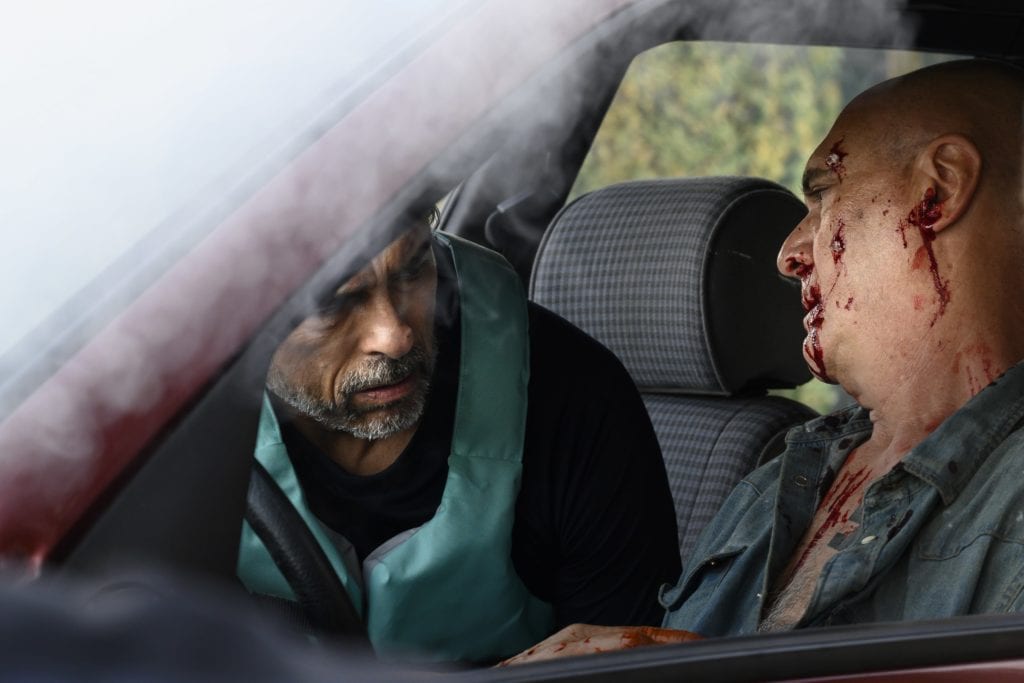 Gassmann, a new beginning
Just one year after Mio fratello rincorre i dinosauri, Alessandro Gassmann is back at Venice Film Festival thanks to a debut film: Non odiare, the only Italian in competition at International Critics' Week, directed by Mauro Mancini, produced by Mario Mazzarotto and shot in Trieste, which will be in Italian cinemas from September 10 with Notorious.
Gassmann plays alongside Sara Serraiocco, Luka Zunic and Lorenzo Buonora. He plays the role of Simone Segre, a successful surgeon of Jewish origin with a quiet life in an elegant apartment in Northeast Italy and a lump in his heart, which drove him away from his father, a survivor from German lager who recently passed away.
One day he finds himself rescuing a man victim of a hit-and-run driver, but when he discovers a Nazi tattoo on his chest, he leaves him to his fate. Tormented by guilt over the death of the neo-Nazi, Simone tracks down his family – Marica, his eldest daughter, Marcello, an adolescent infected by the seed of racial hatred, and the little one Paolo – and his story, inspired by the one of a doctor in Paderborn, Germany, will be an opportunity to show how hatred is now crossing all social levels.
«I believe that Non odiare is a necessary film also from a political point of view – comments Gassmann, who is now filming the new season of I bastardi di Pizzofalcone – because we are in the middle of a chaotic situation that none of the generations currently present on the planet has ever experienced and Covid has exacerbated the problems that were already present in our society.I have my own ideas of course, but I am strongly interested in understanding the reasons of those who do not agree with me, not out of generosity, but because I am afraid of the person who is against me and knowing them prepares me for an adequate reply».
About his character, the actor explains: «I finally read a dry, essential script, far from the redundancy of those that I often read and that seem not to trust the audience's ability to understand. This is a film with few and right words, pure cinema made of images. Simone is a man who observes inside and outside himself and this kind of roles have been offered to me only by Ferzan Ozpetek with Il bagno turco and by Ivano De Matteo with I nostri ragazzi.
The story told in the movie also concerns the history of the Gassmann family. «My grandmother was Jewish, and she married a young German engineer who died during Fascism, when my father was only 14 years old. The salvation of the family was that Vittorio, particularly gifted also from the athletic point of view, was taken in the national basketball team and, as we know, the fascist regime had a particular admiration for the athletes of pure Italian race. My father, however, did not know how long his "sports protection" would last and so brought this terror into his life. This is the first time that I have tackled this subject on the big screen and Simone is a character who also has to do with the memory of my father».
The film reflects also on how to instigate both hatred and fear: «It is a lethal weapon, especially if boosted together with despair and ignorance. An uninformed person is easier to scare because they don't have the opportunity to verify what they've been told. Statistics claim that Italy is the least informed country in Europe. It is essential that correct information reaches everyone, but now this cannot happen through internet which, thanks to anonymity, allows serious forms of cowardice, such as group aggression against the weak and the different. I hope the film invites those who are less concerned about what is happening around us to think. The task of those who, like me, have the opportunity to be heard, must also be to  inform through exciting stories like this one. I am 55 years old and I have done a lot of things, some horrible, some less horrible, some very good. Now I want to dedicate the rest of my life and my career to what interests me politically and ethically. Non odiare is an important step for me. I find myself comfortable with comedy, I have a lot of fun doing it but, I'll do less in the future. I haven't lost the desire to make people laugh, but the reality around me – and quarantine in this sense has been very important – pushes me to do more to for society. I'm a little bit tired of the idea that Gassmann makes you laugh when he's being an overflowing asshole, I think I have a lot more to express but nobody wanted to experiment. That's why debut works become particularly important: young authors look at me in a way allow me to use different colors that have been close into a draw since a very long time. Today I'm ready to play characters of my age and even to relax the abs and show a bit of belly».
ADL