«Italy – Russia. A century of cinema», Konchalovsky: «Our countries are linked»
Boat-In Campari: "Giorgio" and celebrating Matt Dillon
Paolo Conte
«See you on the road»
(Nomadland)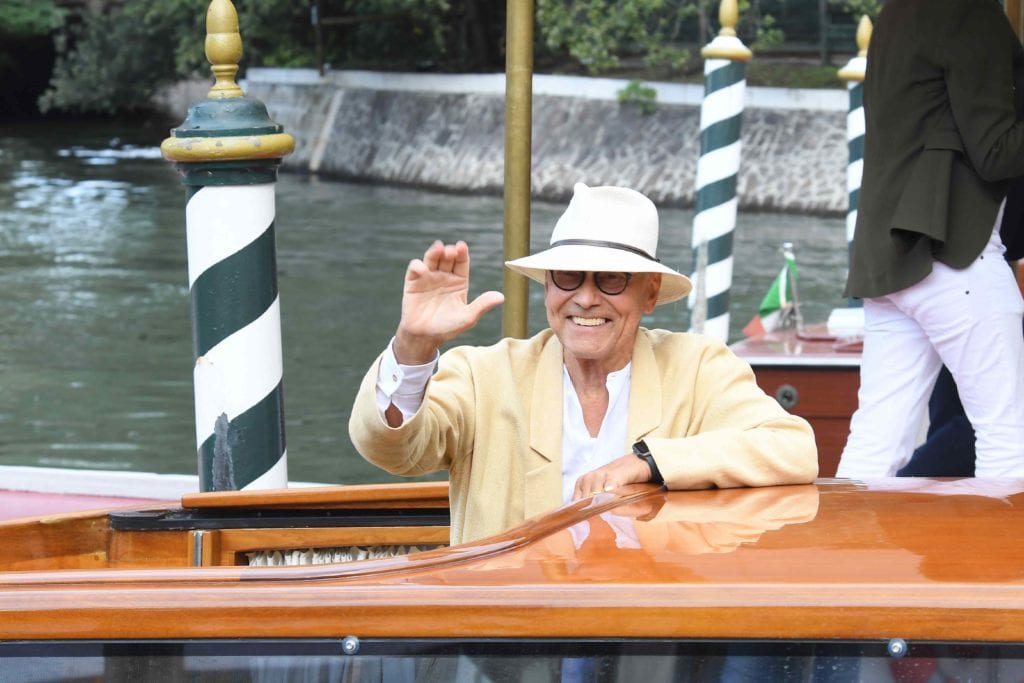 "Italy – Russia. A century of cinema", Konchalovsky: «Our countries are linked»
Italy and Russia are linked since the dawn of cinema. The essay Italy-Russia. A Century of Cinema was presented yesterday at Lido with Russian director  Andrey Konchalovsky attending and sharing his memoir of Venice, «first place I've been when I still was a student».
This book completes the trilogy created by Italian Embassy in Moscow and dedicated to cultural and artistic relationship between Italy and Russia in architecture, music and cinema. Published both in English and Italian, the book has contribution by Italian and Russian academic and is participated by more than 20 institution rom both countries. More than 30 essays, interviews and statements, illustrations and photographs (mostly original).
This year there are important celebrations for  Federico Fellini, Tonino Guerra, Alberto Sordi as written by Italian Ministry of culture Dario Franceschini «to persevere the long tradition of shared projects made looking for a positive and prospective common vision». And cinema as told by Ministry of Culture Olga Ljubimova exalts this collaboration, because «is a team project in its own essence and every single element is fundamental to reach the  artistic general idea».
Russian director Andrey Konchalovsky is enthusiast about the project and remebered that «relationship between Russian and Italiana filmmakers is just a part of ta bigger one that ties our countries. Italy is the most similar culture to ours in Europe and the whole western area. Italians feel comfortable when they came in Russia and we Russians think that Italy is paradise».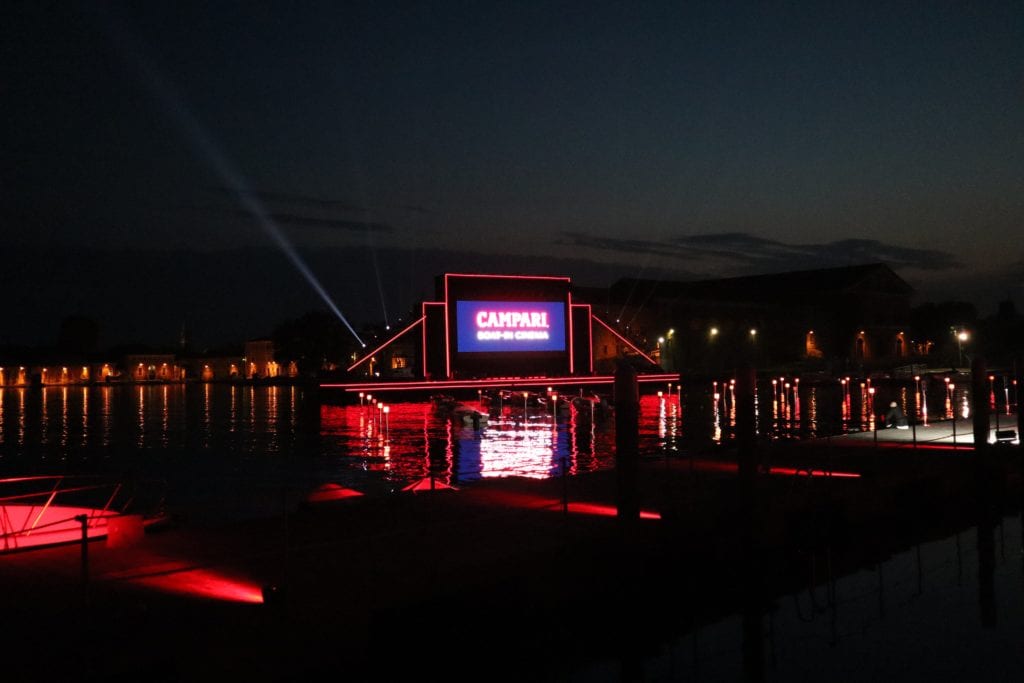 Boat-In Campari: "Giorgio" and celebrating Matt Dillon
Among the most fascinating set up of Venezia 77 there's Campari Boat-In Cinema, the series of event organized by Campari turning drive-in to Boat-in. Selected guests can attend special screenings floating on little boats in the heart of Laguna enriched by fascinating lighting games.
September 10 has been dedicated to short movie Giorgio with the presence of director Arianna Mattioli and actors Andrea Pittorino e Elena Cucci. They talked about the topic of the movie, gender dysphoria. «I tried to completely turn into a transgender, learning how to walk, make up and think as a woman» – said Andrea Pittorino, young actor (he just turn 18) seen in Gabriele Muccino's attore I migliori anni. – «I discovered many things about myself thanks to this experience».  Ludovica Martino, promising actress much loved by young audience thanks to popular series Tutto può succedere, Skam Italia and Netflix's Sotto il sole di Riccione.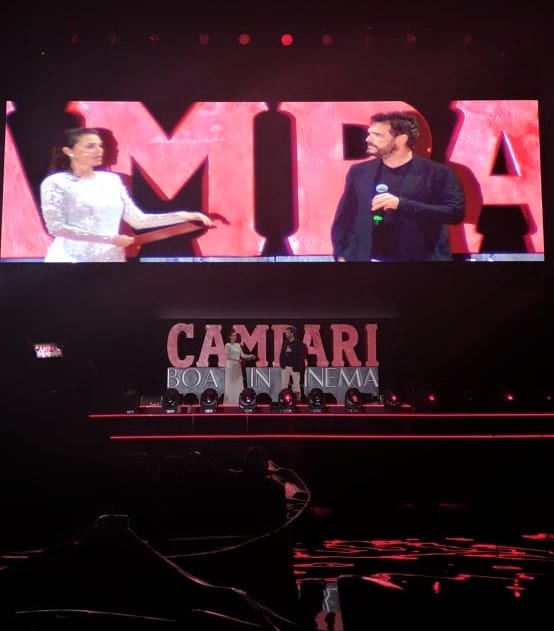 Guest of honor was Matt Dillon who celebrated 40 years of career with a short showreel of his most famous roles. «It's hard to say which was the turning point of my career. Not a particular movie, ever role gave me something special. Working with directors such as Francis Ford Coppola and Lars von Trier was very important».
Dillon then talked about his next project: «It will be a documentary about Cuban musician El Grand Fellove. We shot during the recording of his last album, the documentary will be a kind of legacy. Premiere will be in San Sebastian».
Claudia Giampaolo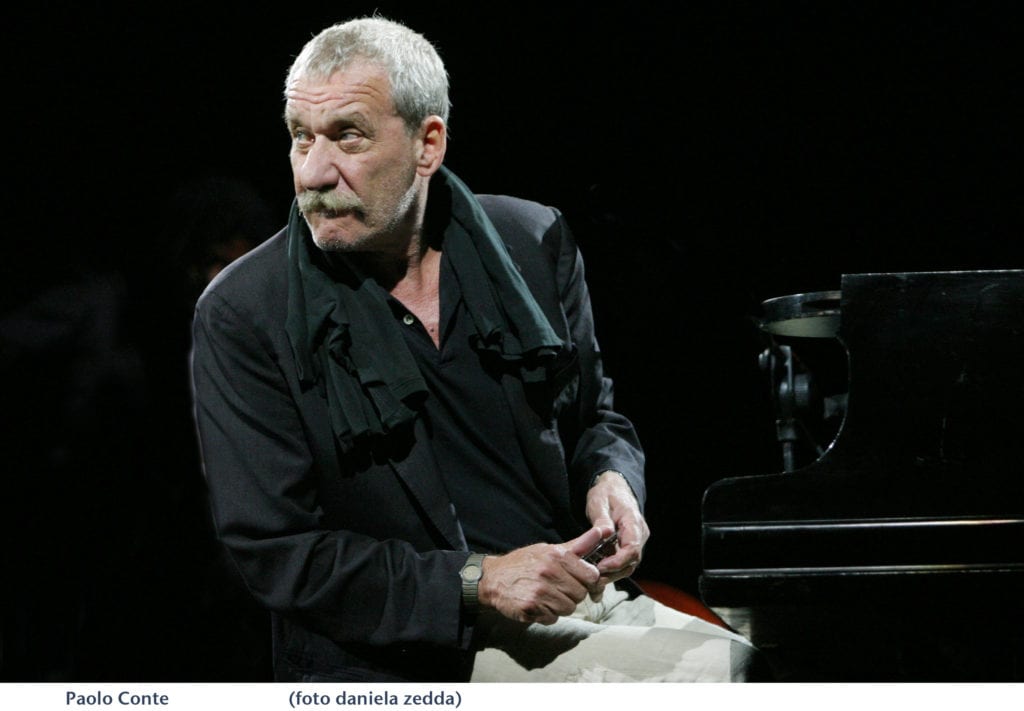 Paolo Conte's video message
Paolo Conte, Via con me by Giorgio Verdelli as been presented yesterday. Paolo Conte sent a video message. «I'm happy I was allowed to follow my style that is not the management of my flaws – said the Italian singer and songwriter that thanked everybody – «An impossible list, but I really want to thank Alberto Barbera and my beloved Pupi Avati».