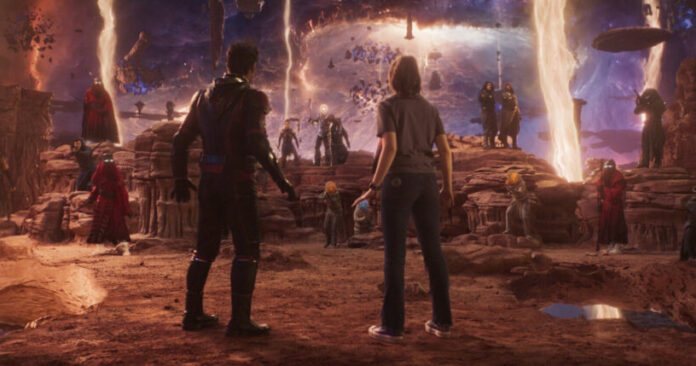 Per noi l'embargo della recensione cadrà solo a San Valentino, alla vigilia dell'uscita in sala del film che apre la Fase 5 del Marvel Cinematic Universe, Ant-Man and the Wasp: Quantumania, ma da Oltreoceano sono già diverse le prime reazioni alle anteprime mostrate dagli Studios. Molte delle quali citano apertamente Star Wars e altri grandi classici della fantascienza di oggi e di ieri.
LEGGI ANCHE: Ant-Man and the Wasp: Quantumania, il nuovo trailer italiano
Attesissimo, in un cast che annovera Paul Rudd, Evangeline Lilly, Bill Murray, Michelle Pfeiffer e Michael Douglas, a spiccare è l'ultimo arrivato – Loki a parte – Jonathan Major, che interpreta il super cattivo Kang, il Conquistatore.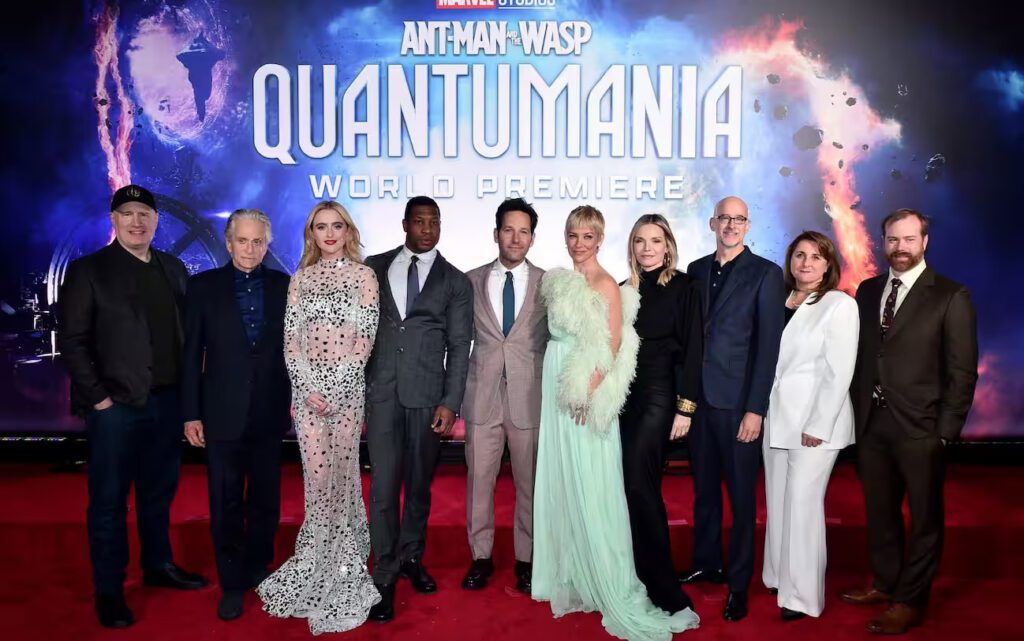 le foto del Red Carpet su Sky TG24
Come accennato, molte le citazioni per Star Wars, che l'azione del film ha ricordato per diversi motivi, ma anche per Dune, Il quinto elemento, John Carter, Monsters & Co., Strange World, Il mago di Oz e Flash Gordon. Un gioco inevitabile, che però non esaurisce il piacere della visione, a quanto pare, per quanto spesso questi commenti si rivelino solo parzialmente indicativi (come visto nel caso recente di Avatar: La via dell'Acqua, ma anche per Nope o i test screening di Wonka).
LEGGI ANCHE: Ant-Man and the Wasp: Quantumania, M.O.D.O.K e Kang nella nuova clip
Dialoghi ispirati e le creature più folli mai viste, insieme alle due scene post credits sono solo alcune delle frecce nell'arco del terzo film dedicato al piccolo grande eroe protagonista della trilogia (e di Avengers: Infinity War). Che difficilmente riceverà i terribili giudizi che han fatto di Magic Mike's Last Dance – altro film in arrivo – uno dei peggio recensiti di sempre per Steven Soderbergh.
Qui le prime reazioni a Ant-Man and the Wasp: Quantumania
ANT-MAN AND THE WASP QUANTUMANIA is a VISUAL FEAST packed w/ SURPRISES (big & small). A WILD RIDE from start to finish.

Jonathan Majors CONQUERS as Kang, the Dynasty is here. Paul Rudd is as lovable as ever & 2 Post Credit scenes!#AntManAndTheWaspQuantumania #Quantumania pic.twitter.com/oHJwrKtwy3

— Ashley Saunders (@ThatAshleyErin) February 7, 2023
#antmanandtheWaspQuantumania has two very important aspects: They lowered the jokes times 20 and #JonathanMajors is incredible as #KangtheConqueror. #Kang is the villain that the MCU really needed. Thank you #Majors for elevating my expectations, Phase 5 looks promising. pic.twitter.com/ELAudketGR

— AtabeyTv (@AtabeyTv) February 7, 2023
There comes a point where every franchise has to get weird, and the MCU has done just that with #AntManAndTheWaspQuantumania. Like all his other roles, Jonathan Majors remains endlessly compelling. 👍👍 pic.twitter.com/cxWEcoKTze

— Brian Davids (@PickYourBrian) February 7, 2023
After a frustratingly rough act 1, #AntManAndTheWaspQuantumania finally gets going, only to end where this story should've began. While the external stakes are clear & weighty, emotional drive felt slight (and levity even lighter). That said, Jonathan Majors rules. pic.twitter.com/qpZeKTgdUd

— Courtney Howard (@Lulamaybelle) February 7, 2023
#Quantumania is definitely Marvel's weirdest movie yet…but that's a good thing! It leans hard into the sci-fi side of the MCU, taking lots of wild swings.

Not everything lands, but it's funny, inventive, and a good time. An enjoyable, bizarro ride into the quantum realm. pic.twitter.com/OvRotfAEQR

— Daniel Howat (@howatdk) February 7, 2023
PHASE 5 HAS BEGUN! The new #AntMan movie is like a psychedelic rollercoaster full of frightening & hilarious oddities, plus one VERY menacing Kang. Big STAR WARS vibes meet the MCU at its freakiest & most inventive. MODOK is a riot, but Jonathan Majors conquers. Loved the ride! pic.twitter.com/gdJqHld3rT

— Erik Davis (@ErikDavis) February 7, 2023
#AntManAndTheWaspQuantumania was well balanced and fast paced. I loved the father/daughter moments in the movie. Jonathan Majors is a beast as Kang. With Black Panther and now #AntManAndTheWasp it feels like @MarvelStudios is back on track. Excited to see it again! pic.twitter.com/p5J0Fm7xF1

— Emmanuel Gomez (@MannyGomezMedia) February 7, 2023
#AntManAndTheWaspQuantumania is a lively, fast-paced deep dive into the weirdest corners of Marvel. Still a little mixed on some choices, but the stuff that lands hits with IMPACT.

The MCU is Jonathan Majors' franchise now. pic.twitter.com/Qt1V2KtEy5

— Hunter Radesi (@hradesi14) February 7, 2023
#AntManandtheWaspQuantumania starts Phase 5 with a bang, playing like a Star Wars-esque epic space opera. Jonathan Majors is truly haunting as #Kang, on course to be a scarier threat than Thanos and has all the makings of an iconic cinematic villain.

(1/2) pic.twitter.com/KB9lad7EAt

— Marvel Tesseract (@Mar_Tesseract) February 7, 2023
ANT-MAN AND THE WASP: QUANTUMANIA … trying to imagine a Marvel novice, "one ticket please," then getting two hours of variant and multiverse talk. Jonathan Majors is great as Kang and for a good portion of the movie Michelle Pfeiffer is the main character, which is awesome

— Mike Ryan (@mikeryan) February 7, 2023
Jonathan Majors is a force in #AntManAndTheWaspQuantumania. He's compelling, chilling, and already giving a top notch performance. I love the complexity he brings to Kang with literally a single look. MCU really won with this casting pic.twitter.com/4W8VCLGFBv

— Nora Dominick (@noradominick) February 7, 2023
Marvel's #AntManAndTheWaspQuantumania is a strong start to Phase 5. I now understand why it's called #Quantumania. JonathanMajors is excellent as Kang and cannot wait to see where this all goes. 2 after the credits scenes and both are very good. pic.twitter.com/62Ch3w2O5N

— Steven Weintraub (@colliderfrosty) February 7, 2023
The more I think about Ant-Man and The Wasp: Quantumania, the more I get excited to see it again. We all know Jonathan Majors can act, but DANG, he was BORN to play Kang! His conversations with EVERYONE else in this film are bone-chilling.#AntManAndTheWaspQuantumania pic.twitter.com/fznksYBHtu

— Tessa Smith – Mama's Geeky (@MamasGeeky) February 7, 2023