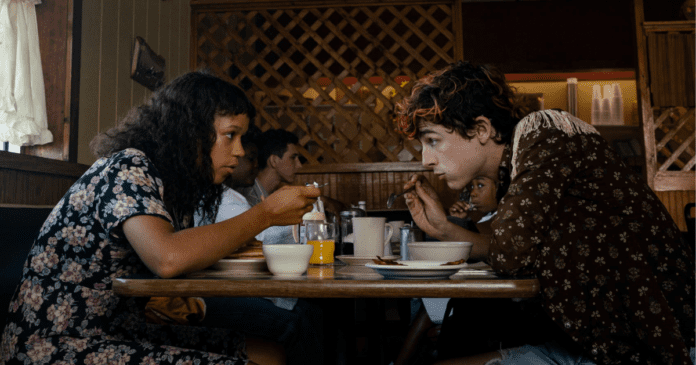 Bones and All di Guadagnino conquista vince la classifica del box office del 24 novembre mantenendosi in prima posizione come il giorno precedente. Il podio non cambia visto che troviamo al secondo posto Black Panther: Wakanda Forever e al terzo The Menu. In quarta posizione troviamo la prima new entry della settimana: Gli occhi del Diavolo, mentre in quinta Diabolik: Ginko all'attacco!. 
LEGGI ANCHE: Bones and all, la recensione
Tra le altre nuove uscite della settimana segnaliamo Strange World al sesto posto mentre Debutta invece in decima posizione Poker Face.
Di seguito la classifica completa, fornita dal sito Cinetel.it
1 – BONES AND ALL: 94.843 euro (14.103 ingressii) – Tot. 109.036
2 – BLACK PANTHER: WAKANDA FOREVER: 86.957 euro (13.354 ingressi) – Tot. 6.885.126
3 – THE MENU: 64.832 euro (10.720 ingressi)  – Tot. 866.212
4 – DIABOLIK – GINKO ALL'ATTACCO!: 45.255 euro (8.101 ingressi) – Tot. 685.571
5 – IL PRINCIPE DI ROMA: 29.140 euro (5.294 ingressi) – Tot. 468.185
6 – LA STRANEZZA: 27.861 euro (5.557 ingressi) – Tot. 4.819.030
7 – STRANGE WORLD – UN MONDO MISTERIOSO: 27.459 euro (4.471 ingressi) – Tot. 27.459
8 – LA SIGNORA HARRIS VA A PARIGI: 16.588 euro (2.978 ingressi) – Tot. 224.030
9 – RASSEGNA CINEMATOGRAFICA: 14.136 euro (2.229 ingressi) – Tot. 1.073.305
10 – IL PIACERE È TUTTO MIO: 13.449 euro (2.388 ingressi) – Tot. 653.932