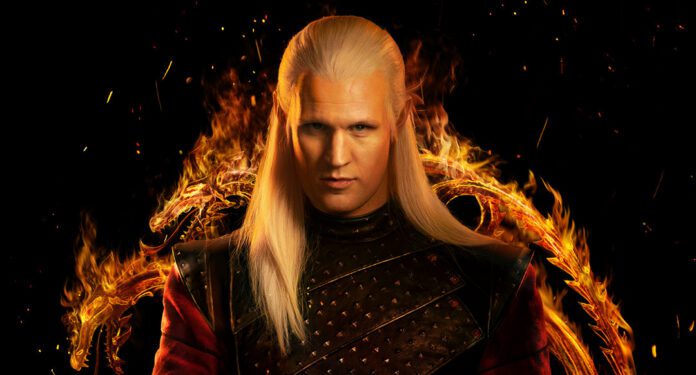 L'appuntamento è per il 22 agosto prossimo, quando si concluderà una attesa durata più di tre anni per i fan di Il trono di spade. Quando, insomma, potremo vedere l'inizio di House of the Dragon, il prequel della leggendaria serie HBO del quale lo stesso network ha appena rilasciato un molto promettente nuovo teaser trailer e i character poster dei personaggi che vedremo sullo schermo.
LEGGI ANCHE: House of the Dragon, le immagini e la data dello spin off di Game of Thrones
Ambientata 200 anni prima degli eventi della ormai storica Game of Thrones, la nuova serie racconterà la storia della Casa Targaryen. Senza dimenticare molti dei nomi e delle casate ormai divenute familiari, non solo ai fan.
House of the Dragon, l'Official Teaser Trailer sottotitolato
LEGGI ANCHE: Il trono di spade, è George R.R. Martin ad aggiornarci su spin-off e futuro
Creata da Ryan J. Condal (Colony) e George R. R. Martin a partire dal romanzo "Fuoco e sangue" di quest'ultimo, la serie da 20 milioni di dollari per episodio (e saranno dieci) avrà la regia di Miguel Sapochnik. E potrà contare su un cast ricco quanto la precedente, con Paddy Considine (come Re Viserys I), Emmy D'Arcy (la principessa Rhaenrya, primogenita di Viserys e sua erede), Matt Smith (nel ruolo del principe Daemon, il fratello minore di Viserys), Rhys Ifans (Ser Otto Hightower, il Primo Cavaliere del Re), Olivia Cooke (Lady Alicent Hightower, la figlia di Otto), Fabien Frankel (Ser Criston Cole, un cavaliere infatuato di Rhaenrya), Steve Toussaint (Lord Corlys Velaryon alias The Sea Snake), Eve Best (la Principessa Rhaenys Velaryon) e Sonoya Mizuno (Mysaria, confidente di Daemon Targaryen).
LEGGI ANCHE: House of the Dragon, 7 nuove entrate nel cast della serie prequel di Game of Thrones
Quelli che seguono sono invece i nove personaggi raffigurati nei diversi tweet apparsi sull'account @HouseofDragon, ognuno con la sua presentazione ufficiale:
Eldest child of Viserys I.#RhaenyraTargaryen #HouseoftheDragon pic.twitter.com/OUU4V89gyA

— House of the Dragon (@HouseofDragon) May 5, 2022
Prince of the City.#DaemonTargaryen#HouseoftheDragon pic.twitter.com/MkXwusCTAP

— House of the Dragon (@HouseofDragon) May 5, 2022
Lord of the Seven Kingdoms. First of His Name. #ViserysTargaryen#HouseoftheDragon pic.twitter.com/u7xUPJCaFE

— House of the Dragon (@HouseofDragon) May 5, 2022
Hand of the King.#OttoHightower#HouseoftheDragon pic.twitter.com/m5h88rm4BT

— House of the Dragon (@HouseofDragon) May 5, 2022
Daughter to the Hand of the King.#AlicentHightower#HouseoftheDragon pic.twitter.com/Z0SVROZvUU

— House of the Dragon (@HouseofDragon) May 5, 2022
The Sea Snake.#CorlysVelaryon#HouseoftheDragon pic.twitter.com/yzENhabkEx

— House of the Dragon (@HouseofDragon) May 5, 2022
The Queen Who Never Was.#RhaenysTargaryen#HouseoftheDragon pic.twitter.com/188i5kvDxG

— House of the Dragon (@HouseofDragon) May 5, 2022
Knight of the Kingsguard.#CristonCole#HouseoftheDragon pic.twitter.com/sjvVwvNPSS

— House of the Dragon (@HouseofDragon) May 5, 2022
Confidante to Daemon Targaryen.#Mysaria#HouseoftheDragon pic.twitter.com/nYO8A8kr53

— House of the Dragon (@HouseofDragon) May 5, 2022