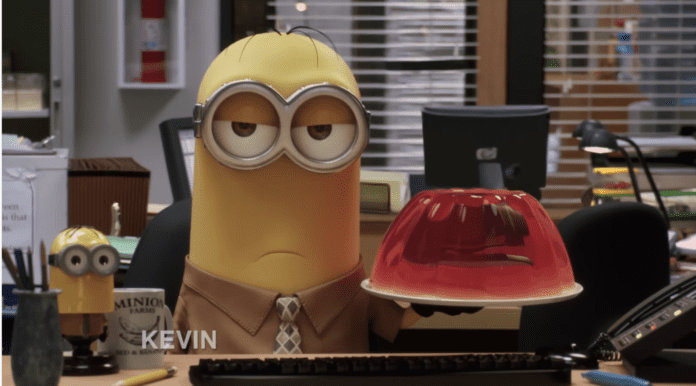 Per celebrare l'imminente uscita di Minions 2 – Come Gru diventa cattivissimo, in arrivo nelle sale italiane il prossimo 18 agosto, la Illumination e il servizio di streaming Peacock hanno pensato bene di creare un simpatico crossover con The Office, uno dei più grandi successi di Steve Carell che, per chi ancora non lo sapesse, è il doppiatore originale di Gru in tutti i film del franchise di Cattivissimo Me.
LEGGI ANCHE: Minions 2, un nuovo trailer per volare come non avete mai fatto
In un nuovo spot, diffuso sui canali della Illumination, i Minions hanno invaso The Office ricreando l'iconica sigla della serie, questa volta con i personaggi di Cattivissimo Me che lavorano alla "Dunder Minion Evil Company, Inc.". I nuovi titoli di testa iniziano come tutti ricordiamo, con l'inquadratura delle strade di Scranton, seppur leggermente modificata: si vede la macchina a razzo di Gru nel traffico, uno striscione che recita "Villain Con" e un minion che dipinge con lo spray una banana sul cartello "Welcome to Scranton".
Ecco poi che arrivano i personaggi. Gru ha preso il posto di Michael Scott, così come il Minion Kevin quello di Dwight, Stuart quello di Jim, Bob quello della segretaria Pam e il nuovo Minion Otto quello di Kevin. Il resto del video cita alcuni dei momenti più iconici della serie: Kevin il Minion trova la sua spillatrice nella gelatina, Otto rovescia una vasca di chili, un minion lancia un gatto sul soffitto e altro ancora.
Ecco il video:
Minions 2 – Come Gru diventa cattivissimo
Minions: The Rise of Gru il titolo originale, è il secondo film spin-off dei Minions e il quinto dell'intero franchise. Il film, concepito come prequel, è ambientato negli anni '70 e vede Carell (Max Giusti nella versione italiana) tornare a dare la voce a un giovane Gru, mentre il film esplora il modo in cui il futuro cattivo ha incontrato e iniziato a lavorare con i Minions. In Italia, l'anteprima si terrà al Taormina Film Fest il prossimo 30 giugno.
Le foto di Minions 2 - Come Gru diventa cattivissimo