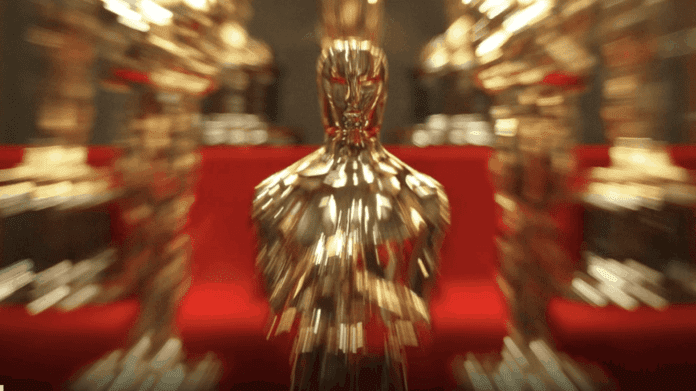 Con una certa dose di ottimismo, viste le notizie che arrivano dai BAFTA e dalle cerimonie che anticipano la Oscar Night, e un incrollabile rispetto delle tradizioni, la settimana più calda è iniziata. Da oggi e fino alla serata di premiazione degli Oscar 2022, un fitto calendario di feste attende i protagonisti, i candidati e i tanti ospiti annunciati alle feste in programma a Hollywood e dintorni.
LEGGI ANCHE: Kenneth Branagh positivo al Covid, potrebbe saltare anche gli Oscar
Grazie a Deadline possiamo avere una idea di cosa attenda le star più presenzialiste e i tanti testimonial di questi o quegli sponsor, che in molti casi sono il vero – e unico? – motivo per cui partecipare a un party piuttosto che a un altro. Soprattutto in un anno nel quale più che la preoccupazione per l'acconciatura giusta o l'abito più originale, ci si dovrà forse preoccupare delle mascherine coordinate e del rispetto delle disposizioni sanitarie… a meno di non rinunciare a palcoscenici più importanti e venire meno a l'appuntamento con il pubblico.
Se non fate parte dell'Academy, votate su CIAK i vostri OSCAR 2022
Qui il calendario delle feste e gli ospiti annunciati nella settimana degli Oscar 2022:
22 marzo, martedì
8:30 5th Annual EMILY's List – The Collective Power of Women
DOVE: Four Seasons, Los Angeles at Beverly Hills
Il più grande riferimento degli States per le donne in politica sarà caratterizzato da una tavola rotonda sull'industria dell'intrattenimento e sui leader eletti. I relatori includono la showrunner, produttrice, scrittrice, regista e attrice Gloria Calderón Kellett; l'attore Maitreyi Ramakrishnan; il responsabile marketing, autore e imprenditore della Hall of Fame Bozoma Saint John; il comico, autore e produttore Robin Thede; la rappresentante degli Stati Uniti Karen Bass (CA-37) e una candidata sostenuta da EMILY alla carica di sindaco di Los Angeles con la scrittrice e produttrice – e membro del consiglio di amministrazione di EMILY – Yvette Nicole Brown in qualità di moderatrice. In programma anche una conversazione tra l'autrice e membro dell'Emily's List Creative Council Amber Tamblyn e la star della WNBA, conduttrice di ESPN e attivista Chiney Ogwumike.
17:00 2022 iHeartRadio Music Awards
DOVE: Shrine Auditorium, Los Angeles
Jennifer Lopez riceverà il iHeartRadio Icon Award 2022. Ospita LL Cool J.
19:00 Oscar Week: Shorts
DOVE: Samuel Goldwyn Theater, Beverly Hills
La Academy of Motion Picture Arts and Sciences dedica un evento ai nominati di quest'anno all'Oscar per il cortometraggio animato e non. Prevista la proiezione di tutti e 10 i film brevi, con le introduzioni dei filmmakers.
Vanity Fair and BACARDÍ Rum CelebrateVanities: A Night for Young Hollywood
DOVE: Musso & Frank, Hollywood
Evento condotto da Alana Haim, Ariana DeBose e Giveon.
19:45 & 21:45 The Ron Burgundy Podcast Live!
DOVE: Largo at the Coronet, Los Angeles
E' lecito attendersi di tutto da Will Ferrell, nei panni del celebre Ron. Ogni episodio LIVE avrà un tema diverso, con Ron e Carolina a dialogare con celebrità e personalità importanti sull'argomento in questione. In vero stile Ron Burgundy, queste conversazioni ci riveleranno cose che non sapevamo di voler conoscere su più di una persona. Il ricavato dell'evento andrà a: Cancer For College, KidSave, International Rescue Committee e Care.
23 marzo, mercoledì
17:00 Pre-Oscars Event Celebrating South Asian Excellence
DOVE: UTA, Beverly Hills
Un brindisi al meglio dell'Asia sul grande schermo. Tra gli host Priyanka Chopra Jonas, Mindy Kaling, Kumail Nanjiani, Anjula Acharia, Bela Bajaria, Maneesh K. Goya e Shruti Ganguly. Tra gli invitati: Riz Ahmed e Suroosh Alvi (Flee), Joseph Patel (Summer of Soul), Riz Ahmed e Aneil Karia (The Long Goodbye).
18:00 Celebration of Norwegian Films and Talents
DOVE: The Stanley House, LA
Il Norwegian Film Institute celebra l'Oscar alla carriera di Liv Ullmann e le nomination di La persona peggiore del mondo, Flee e il corto Writing With Fire.
18:00 Roman Media's Annual Pre-Oscar Event
DOVE: Berkshire House, LA
Una notte di film, moda e divertimento in onore del Celebrity Designer Shekhar Rahate, e il suo nuovo reality show. Tutti gli invitati dovranno accettare di essere filmati, visto che potrebbero apparire in una prossima serie sull'influsso di Shekhar su Hollywood.
19:30 Oscar Week: Documentaries
DOVE: Samuel Goldwyn Theater, Beverly Hills.
Presentazione dei soggetti dei documnetari nominati, corti e lungometraggi, con clip e introdizioni dei filmmaker.
24 marzo, giovedì
12:15 15th annual ESSENCE Black Women in Hollywood Awards
DOVE: Beverly Wilshire Hotel
L'evento punta a sottolineare gli straordinari risultati delle donne nere più in evidenza e impegnate nel raccontare storie promosse da The Black Cinematic Universe. Protagoniste: Nia Long (You People), Aunjanue Ellis (King Richard), Quinta Brunson (Abbott Elementary) e Chanté Adams (A Journal For Jordan). Conduce Damson Idris. Sponsor: Disney's Onyx Collective e Warner Bros Television Group.
12:30 Taste the Future
DOVE: Four Seasons LA at Beverly Hills
Uma Thurman, Liam Payne, Paul Wesley, Questlove, Christian Angermayer e Sean O'Sullivan sono gli ospiti di un pranzo incentrato sul futuro del 'food'.
17:00 Canada & the Oscars
DOVE: Consulate General of Canada, Los Angeles
Il console canadese Zaib Shaik celebra i suoi connazionali e gli amici del Paese tra i nominati di quest'anno.
18:00 US-Ireland Alliance hosts 16th Annual Oscar Wilde Awards
DOVE: Wilshire Ebell, Los Angeles
Protagonisti Adam McKay, Kenneth Branagh, Jamie Dornan e Dónall Ó Héalai. Tra le altre star attese: Andrew Garfield (presentatore), J.J. Abrams (Maestro di Cerimonie) e Katie McGrath, Loah & Bantum, True Tides; ospiti: Norman e Lyn Lear, Fig O'Reilly, Sarah Bolger, Dominique McElligott, Samantha Mumba, Reinaldo Marcus Green, Nora-Jane Noone, Andrew Nelson, Terry George, Hylda Queally, Rick Famuyiwa, George Drakoulias, Wayne Jobson, Rebecca Bourke & Benjamin Cleary, Richard Curtis & Emma Freud.
19:30 Oscar Week: International Film
DOVE: Samuel Goldwyn Theater, Beverly Hills
Padroni di casa Susanne Bier e Rajendra Roy dell'International Feature Film Award Executive Committee. Una celebrazione della Academy dei nominati al Miglior Film Internazionale, che presenteranno clip e i cui registi si troveranno in un panel aperto alla discussione (impegni permettendo).
Vanity Fair and Lancôme Celebrate the Future of Hollywood
DOVE: Mother Wolf, Los Angeles
A condurre la caporedattrice di Vanity Fair Radhika Jones e Amanda Seyfried.
The 5th Annual MACRO Pre-Oscar Party
25 marzo, venerdì
10:00 The DPA pre–Oscars gift suite 2022
DOVE: Luxe Sunset Boulevard Hotel
42 brand da tutto il mondo, con prodotti di lusso in regalo agli intervenuti. Ospiti selezionati verranno omaggiati di un viaggio di 5 giorni in Kenya.
11:00 ICG Publicists Awards Luncheon
DOVE: Beverly Hilton
Una serata speciale per onorare il filmmaker Francis Ford Coppola con un premio alla carriera; Sterlin Harjo (Le iene) e Taika Waititi riceveranno il ICG Publicists 2022 Television Showpersons Award, Michael De Luca e Pamela Abdy della MGM il ICG Publicists' Motion Picture Showpersons Award.
11:00 Secret Room Events Style Lounge
DOVE: SLS Hotel, Beverly Hills
Raccolta di fondi per i rifugiati dell'Ucraina all'ingresso. Grandi borse regali con oltre 60 oggetti al loro interno e più di 40 sponsor presenti.
15th Annual Women in Film Oscar Party
DOVE: Bar Lis at the Thompson Hollywood
Co-hosted dalla producer vincitrice dell'Oscar Cathy Schulman e l'artista H.E.R.; tra gli sponsors Max Mara, Charlotte Tilbury Beauty e Heineken, con il sostegno di IMDbPro e la tequila Don Julio. L'occasione, la ceelbrazione delle 60 donne nominate all'Oscar 2022, davanti e dietro la macchina da presa.
CAA Pre-Oscar Party
DOVE: San Vincente Bungalows
Tra i nominati clienti della CAA: Denis Villeneuve, Will Smith, Paul Thomas Anderson, Steven Spielberg, Beyoncé, Ariana DeBose, Penélope Cruz, Nicole Kidman, Andrew Garfield, Ciaran Hinds, Aneil Karia e Jessie Buckley.
The Academy of Motion Picture Arts and Sciences' 12th Governors Awards
DOVE: The Ray Dolby Ballroom at Hollywood & Highland Center, Hollywood
Già annunciati, riceveranno l'Oscar onorario alla carriera Samuel L. Jackson, Elaine May e Liv Ullmann, mentre il Jean Hersholt Humanitarian Award sarà presentto da Danny Glover.
LEGGI ANCHE: Oscar 2022, Samuel L. Jackson prepara il discorso e parla di Nick Fury
26 marzo, sabato
9:30 American Cinema Editors Oscar-Nominated Film Editors Panel
DOVE: The Regal, Sherman Oaks
Confronto aperto al pubblico sul montaggio e i nominati all'Oscar di categoria. Con Hank Corwin (Don't Look Up), Joe Walker (Dune), Pamela Martin (King Richard), Peter Sciberras (The Power of the Dog), Myron Kerstein e Andrew Weisblum (tick, tick…BOOM!). Modera il presidente della Motion Picture Editors Guild, Alan Heim.
10:00 Oscar Week: Animated Feature Film
DOVE: Samuel Goldwyn Theater, Beverly Hills
Condotto da Bonnie Arnold e Jennifer Yuh Nelson della Academy Short Films and Feature Animation Branch, l'AMPAS celebra film e registi nominati all'Oscar 2022 per il Miglior Film Animato.
14:00 Oscar Week: Makeup and Hairstyling Symposium
DOVE: Samuel Goldwyn Theater, Beverly Hills
Condotto da Howard Berger, Bill Corso e Linda Flowers, si celebrano i candidati agli Oscar 2022 per Trucco e acconciatura. Segue dibattito.
14:30 Society of Composers and Lyricists Champagne Reception
DOVE: 1 Hotel, West Hollywood
Un brindisi in onore dei candidati agli Oscar della musica, per la Miglior canzone e la Colonna sonora.
17:00 Giorgio Armani
DOVE: Giorgio Armani, Beverly Hills.
Roberta Armani è la padrona di casa, che accoglierà nella celebre boutique di Beverly Hills la star di A proposito dei Ricardo Nicole Kidman.
17:00 Energy Independence Now, Global Green USA and the Petersen Automotive Museum Pre-Oscar Gala Event
DOVE: Petersen Automotive Museum
Un lungo elenco di celebrità annunciate: Stevie Wonder; Machine Gun Kelly; Mandy Moore; Avril Lavigne; Mod Sun; Oscar De La Hoya; Ryan Sheckler; Tawny Newsome; Mena Suvari; David Boreanaz; Ronen Rubenstein; Jessica Parker Kennedy; Meagan Good; Charlotte McKinney; Gabrielle Ryan; Mario Lopez; Jaylen Barron; Sharon Lawrence; Bai Ling; Jordyn Woods; Adrienne Bailon; Jake Busey; Magnus Walker; A Martinez; Jason Lewis; Nikki DeLoach; DeShawn Jordan; Manny Santiago; Morgan Willet; Kristina Menissov; John Savage; Kyle Massey; Cordell Broadus; Jake Wesley Rogers; Kristina Schulman; Mariah Duran; Christiana Means; John Salley; Chris Spencer; Taylor Goldsmith; Keana Marie; Victoria Konefal; Carl Franklin; Robert Palmer Watkins; Donovan Carter; Cuttino Mobley; Adrianne Maloof; Stix; Jesse Kove; Kara Del Toro; Alyssa Lynch; Sydney Morgan; Ashley Haas; Emma Norton; Lindsey Coffey; Nadia Dawn; Jessica Ross; Carmit Bachar; Petri Byrd; Brooklynne Webb; Ben Giroux; Regan To; Juju Green; Lavina Postolache; Michelle Harris; Tehmina Sunny; Maddie Moore; Mandla Morris; Kai Morris; Amal Alsharani; Eric Krasno e altri
Charles Finch & Chanel
DOVE: Private, Los Angeles
Annuale cena pre-Oscars in esclusiva per VIP.
20th Annual Motion Picture & Television Fund's The Night Before
DOVE: Fox Studios
Prevista una raccolta fondi durante la serata per sostenere i colleghi dell'industria e gli amici del programma di beneficenza di MPTF, con servizi di assistenza finanziaria, consulenza e medici agli ospiti famosi e veterani del mondo de cinema di casa nella struttura di Woodland Hills.
27 marzo, domenica
14:00 Charmaine Blake Viewing Dinner to benefit the Faber Ryan Youth Foundation
DOVE: Luxurious Ballroom of Spice Affair, Beverly Hill
Protagonista Jason Derulo, fondatore della 'Just for you Foundation' dedicata alla raccolta di fondi in favore di educazione e ospitalità a orfani e famiglie. Celebrità previste: Natalie Burn (attrice ucraina-statunitense di Black Adam) Terrence Howard, Mario Van Peebles, Donnell Rawlings, Layla Crawford, Simeon Daise, Daniele Lawson, Kate Linder, Esai Morales, Eric Benet. Sponsor: Adobe Road Winery e The HUSL, con intrattenimento live, cena e omaggi ai partecipanti.
15:00 Oscar Night
DOVE: Academy Museum
1.200 persone invitate nella nuova location dell'Academy. Che potranno camminare sul Red Carpet, godersi un menu e cocktail creati per l'occasione, esplorare le gallerie e vivere una vera Oscars Experience, prima di guardare la cerimonia in streaming sulla ABC. Biglietti: 75 dollari per i membri del museo e 100 per gli altri.
16:00 Mercedes-Benz Academy Awards Viewing Party
DOVE: Four Seasons LA at Beverly Hills
Live della serata in un elegante spazio esterno offerto dall'hotel. Gli invitati – in passato anche Jon Hamm, Tracee Ellis Ross, Anthony Anderson, Kelly Rowland, Jamie Foxx – potranno soprire le novità degli sponsor e godersi catering e cocktail.
30th Annual Elton John AIDS Foundation Academy Awards Viewing Party
DOVE: West Hollywood Park
Condotto da Lady Gaga, Billy Porter ed Eric McCormack, la serata vedrà una esibizione della sei volte Grammy Award Brandi Carlile. Un party per il 30esimo anniversario della Elton John Aids Foundation.
LEGGI ANCHE: Oscar 2022, niente vaccino per i presentatori e nuove regole
17:00 The 94th Academy Awards (Dolby Theatre)
Vanity Fair's Oscar Party
DOVE: Wallis Annenberg Center for the Performing Arts in Beverly Hills
Warner Bros. Private Afterparty for Oscar Nominees
Gli Studios di Burbank organizzano sempre qualcosa di speciale per i loro candidati all'Oscar. Quest'anno, su tutti, Dune di Denis Villeneuve, con 10 nomination, e King Richard, con sei. Qualcuno vincerà…
Madonna's annual A-List Oscar Party
DOVE: Nella villa privata del manager della cantante, Guy Oseary, zona Coldwater Canyon, Beverly Hills.