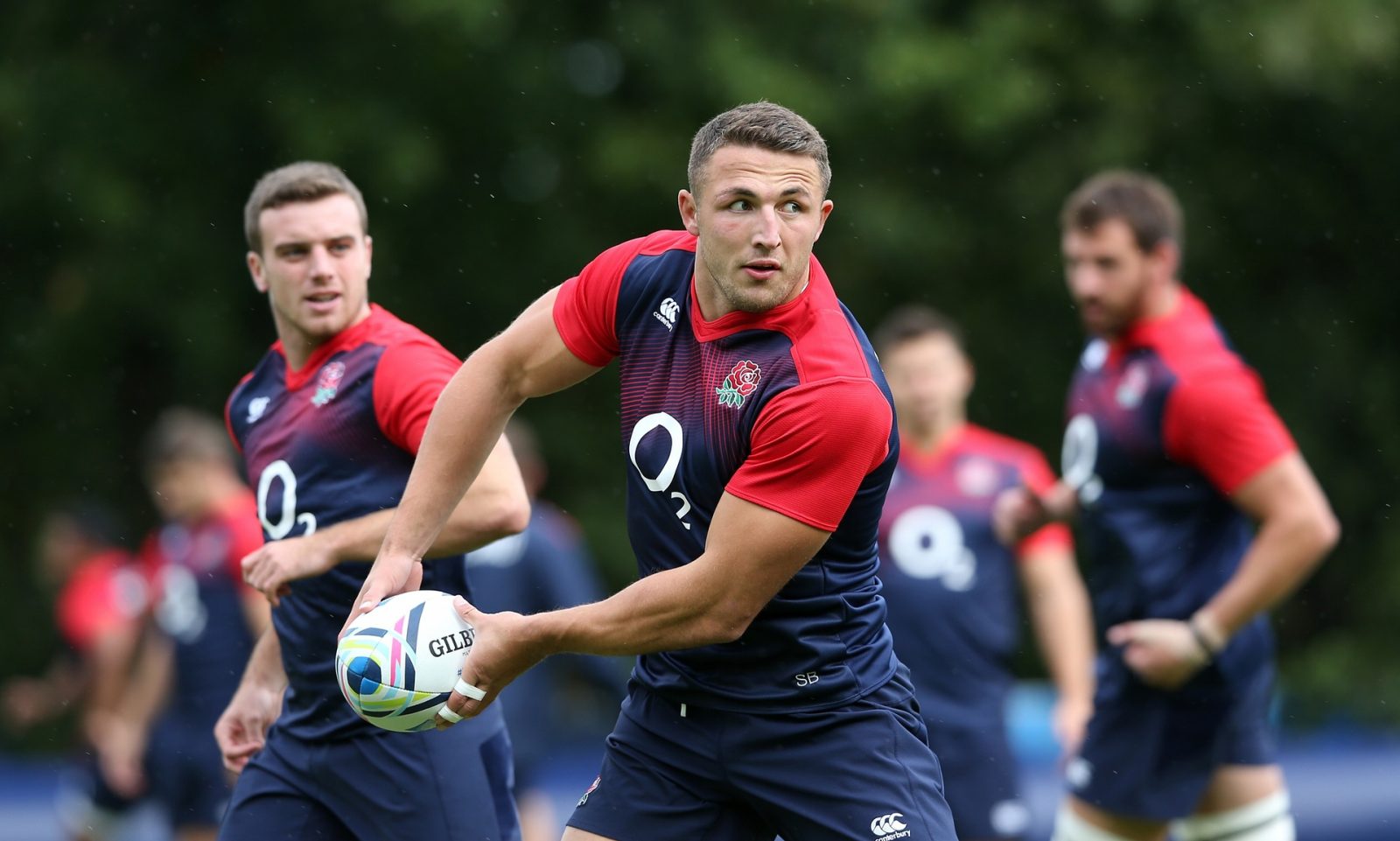 Before England's most significant team announcement for at least four years it pays to remember one thing. The host nation simply cannot afford to lose to Wales at Twickenham this Saturday. Full stop. It is a non-negotiable position that renders style or gallant failure irrelevant. This is the weekend that will define their Rugby World Cup campaign.
Slip on that mental straitjacket and it becomes easier to understand the selectorial thinking of Stuart Lancaster, below, and his backs coach, Andy Farrell. Even before Jonathan Joseph was ruled out through injury they were tempted by the idea of Sam Burgess and Owen Farrell adding extra midfield muscle. Now that Joseph is out for a good chunk of the tournament with a pectoral muscle injury, the outlet for George Ford's subtler passing game has diminished appreciably.
So it is that England are about to set sail with two centres who have never played a competitive match together – Burgess and Brad Barritt would be the 14th different pairing of Lancaster's tenure – and a midfield triangle that appears to contradict all the attacking progress made over the past 10 months. This is not where England wanted to be on the eve of the biggest game of Lancaster's career, which begs two questions: is it good news for Wales or are England simply taking the precaution of sticking a few heavy-duty extra bolts on their front door?
The answer is probably both. With Ford and Joseph on the field, Wales would have had to prepare for at least a dash of the unexpected. Now they know precisely what is coming. Prepare for a game of British Bulldogs meets Australian Rules: a game played largely down narrow channels with the ball up in the air a hell of a lot. For that type of contest Farrell is not the worst man to have around; Ford's tactical kicking has not been as sure over the past month as it might have been.
As reported in the Guardian before their opening warm-up game against France, it was always the plan within the English camp not to start with the same fly-half for all three of the side's initial pool games. The implication was there would be a horses-for-courses element to selection, that no one's place was secure. That is fine in theory but rather less ideal if injuries intervene elsewhere in the midfield, as has now happened. Continuity is all very well on the training ground but shared game-time is equally crucial. Farrell, having started only one Test in the past 10 months, is also being asked to weave miracles alongside a 12 who everyone in Bath reckons is a better bet at flanker.
At this point it should be acknowledged Burgess enjoyed his best spell in an England jersey in the final 20 minutes against Fiji, when his direct running offered a welcome contrast to the lateral stuff that had largely been served up. He loves a big contest, too. The "sparkly-eyed man", as his friend Russell Crowe calls him, will be the least intimidated man in the stadium on Saturday evening. It is also worth revisiting Andy Farrell's verdict last month when asked if Burgess could really cut it at Test level as a centre. "He's obviously a big strong lad who can do some damage but there's more subtlety in his game than just being a battering ram," replied Farrell. "He runs his lines, he's got good late footwork and he's got some skill to back that up, like you would expect from an international centre."
His team-mates have certainly been struck by the former South Sydney Rabbitoh's sheer enthusiasm for the fray, wherever he is asked to slot in. "I think he's been a quality player wherever we've put him," said his Bath colleague Anthony Watson. "When he played at six in the Premiership final he was one of the stand-out performers in that game. But you've also seen what he can do in the centre as well, putting in those big hits and giving us the go-forward we need. Wherever you put him, Sam's going to do his utmost and you're going to see his qualities shine through."
Well, now really is the moment to sparkle as never before. If not, both Lancaster's original squad selection and his decision not to introduce Henry Slade into the squad mix earlier will come under fresh scrutiny. An injury to Joseph, who may well not return until after the pool stages, was pretty much the dreaded scenario; not only could he cover wing in extremis but no other centre in the squad possesses his pace and footwork – as Wales found in Cardiff in February. The versatile Slade is full of potential at this level but pitching him into a game of this magnitude after a solitary warm-up cap was always going to be a stretch. In hindsight, retaining Luther Burrell – part of a winning England midfield against Wales twice in the past 18 months – would have simplified Lancaster's life.
It may yet be, of course, that the management is proved spot on, Burgess has a stormer, Ford comes off the bench to win the game and Wales find themselves endlessly bashing their heads against an impenetrable white wall. If nothing else this England line-up offers defensive physicality. As Brad Barritt was saying the other day – "We've made a goal for ourselves at this World Cup to be the best defensive team in the world" – teams with tight rearguards tend to win more titles.
With Billy Vunipola set to regain his place in the starting XV as Ben Morgan struggles to overcome a blow to the knee, the English majority in the Twickenham crowd are guaranteed to roar their heroes on regardless of who is actually filling the jerseys. Without Joseph and Ford, though, they will need to look elsewhere for a creative spark.
For that Wales's players and coaches may yet be extremely grateful.
England (v Wales, probable): Brown (Harlequins); Watson (Bath), Barritt (Saracens), Burgess (Bath), May (Gloucester); Farrell (Saracens), B Youngs (Leicester); Marler (Harlequins), T Youngs (Leicester), Cole (Leicester), Lawes (Northampton), Parling (Exeter Chiefs), Wood (Northampton), Robshaw (Harlequins, capt), B Vunipola (Saracens)
Replacements: Webber (Bath), M Vunipola (Saracens), Wilson (Bath), Launchbury (Wasps), Haskell (Wasps), Wigglesworth (Saracens), Ford (Bath), Goode (Saracens).