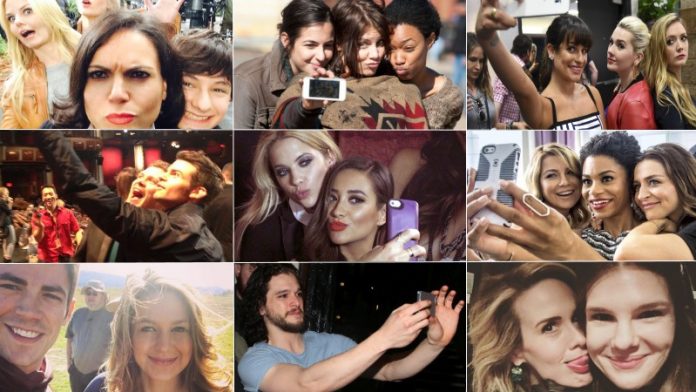 Da qualche anno a questa parte il successo di una celebrità è decretato anche dalla sua popolarità sui social network: lo sanno bene i protagonisti delle serie tv che giornalmente scelgono di condividere alcuni momenti della loro vita con i fan.
Dai supereroi di Arrow e The Flash ai medici di Grey's Anatomy, ogni settimana cercheremo di raccogliere i post più importanti, divertenti, curiosi o comunque degni di nota, degli attori dei nostri show preferiti.
Pretty Little Liars
Dopo il successo alle Olimpiadi di Rio, Simone Biles ha accettato l'invito di Marlene King e ha trascorso una giornata sul set di Pretty Little Liars (qui puoi trovare tutte le foto della ginnasta insieme al cast della serie). Ecco la foto condivisa da Troian Bellisario:
Ashley Benson fa un tuffo nei ricordi e condivide due post con la sua bff Shay Mitchell: una foto scattata durante il recente viaggio in Italia e un dolcissimo #tbt.
Meno romantica e decisamente più trash l'altra metà delle #Buttahbenzo, Shay, che festeggia l'arrivo della sua stagione preferita:
Lucy Hale si dedica al volontariato e partecipa all'annuale camminata/corsa solidale organizzata dall'ospedale St. Jude in sostegno dei piccoli malati di cancro:
Nella prossima pagina gli attori di American Horror Story, Grey's Anatomy e molto altro!
American Horror Story
Dopo cinque candidature che non le hanno mai valso la vincita della prestigiosa statuetta, Sarah Paulson ha finalmente ottenuto il giusto riconoscimento agli Emmy Awards (qui puoi trovare tutti i vincitori) portandosi a casa il premio come "Miglior attrice protagonista in una miniserie o film" grazie al ruolo di Marcia Clark in The People v. O.J. Simpson: American Crime Story.

Took the Lady for a drive… She wanted to go to dinner. pic.twitter.com/1RhnymwZGW

— Sarah Paulson (@MsSarahPaulson) 25 settembre 2016
Cosa c'è di meglio che indossare una felpa con su rappresentato Evan Peters e allo stesso tempo fare anche beneficenza?
Su Represent.com/evanpeters potete trovare, per sole due settimane, una collezione limitata di t-shirt e altri capi di abbigliamento realizzati in collaborazione con l'attore. Il progetto è a scopo benefico e parte del ricavato sarà devoluto all'associazione Feed My Starving Children.
Game of Thrones
Prima passeggiata social per il piccolo Monte, figlio della Melisandre di Game of Trones, Carice Van Houten, e dell'attore Guy Pearce.
Le giovani Maisie Williams e Sophie Turner si divertono, invece, su Instagram: eccole in un esilarante face swap postato da "Arya":
Anche su Twitter l'attrice è molto attiva e ritwitta un dolcissimo ricordo con le sue co-star:
Friendly reminder that this actually happened…….. pic.twitter.com/uKFWuf5P67

— Maisie Williams (@Maisie_Williams) 22 giugno 2015
I vampiri di The Originals e le Chanel di Scream Queens vi aspettano nelle prossime pagine!
Grey's Anatomy
Il telefilm di Shonda Rhimes è tornato a farci compagnia giovedì scorso con il solito mix di emozioni forti e momenti più leggeri e divertenti.
DeLuca è arrivato in ospedale in pessime condizioni ma il suo interprete, Giacomo Gianniotti, ha voluto farci vedere la scena anche da un'altra, decisamente meno tragica, prospettiva:
Molto più rilassata rispetto al suo personaggio anche Ellen Pompeo che ci mostra i progressi con l'hip-hop grazie alle lezioni di Debbie Allen, Catherine Avery nella serie:
Polemiche invece da parte di Kelly McCreary, la bella dottoressa Maggie Pierce: Getty Images l'ha confusa con la co-star Jerrika Hinton e l'attrice ha postato un lungo post in cui esprime il suo disappunto per l'accaduto, chiedendosi se sarebbe successo lo stesso tra due attrice bionde e non di colore.
L'ex Izzie Stevens, Katherine Heigl, mostra orgogliosa il suo pancione per la prima volta:
How to Get Away With Murder
Matt McGorry, tornato più esilarante che mai nei panni di Asher con la nuova stagione di How to Get Away With Murder, ha preso parte al video diretto da Joss Whedon per invitare gli americani al voto e ha postato il filmato, che puoi vedere cliccando qui, sul suo profilo Twitter.
La sparizione di Frank Delfino è stata davvero un trauma per Laurel e per i fan della serie che però, forse, hanno sofferto molto di più per un'altra mancanza: la barba di Charlie Weber.
@TheCharlieWeber STILL SHOOK WITH FRANK TRANSFORMATION

— Mari (@analisekeatin) 23 settembre 2016
It's a lot but do you like it? https://t.co/z67EVsbzaC

— Charlie Weber (@TheCharlieWeber) 23 settembre 2016
Scopri cos'altro hanno condiviso gli attori nelle prossime pagine!
The Vampire Diaries e The Originals
In attesa del ritorno di The Vampire Diaries e di The Originals, i fan delle due serie di Julie Plec possono consolarsi e ingannare il tempo seguendo i loro attori preferiti sui social.
La bella Phoebe Tonkin, che da qualche mese è uno dei nuovi volti di Chanel, ha partecipato nei giorni scorsi ad evento del brand, mostrandosi in tutta la sua eleganza e classe su Instagram:
Riley Voelkel utilizza il social network per renderci complici della sua felicità per aver ottenuto la cittadinanza americana (l'attrice è canadese):
La piccola Summer Fontana, l'ultima arrivata in casa Mikaleson, coltiva le sue passioni: un talento ereditato da "papà Klaus"?
È bastato, invece, un semplice commento di Julie Plec a una foto di Nina Dobrev per far gridare al suo imminente ritorno in The Vampire Diaries:
So good to be home. Back to my kitchen. Back to my happy placepic.twitter.com/CukfDi123Q

— Nina Dobrev (@ninadobrev) 20 settembre 2016
@ninadobrev I just got home too! Blink a light for me.

— julieplec (@julieplec) 20 settembre 2016
Direttamente da Storybooke, gli attori di Once Upon a Time ti aspettano nella prossima pagina!
Arrow, The Flash, Supergirl e tutti gli altri supereroi
Oliver Queen e gli altri supereroi di Arrow torneranno solamente tra qualche giorno: la serie ripartirà con la sua quinta stagione il 5 ottobre su The CW.
Nel frattempo sul set c'è aria di festa per le riprese del centesimo episodio, il 5×08, in cui assisteremo al crossover con The Flash e molte guest star torneranno a fare visita a Stephen Amell, che però è decisamente molto più eccitato per un altro motivo: tornare ad indossare il suo cappotto preferito.
Sure, the story of our 100th episode is important. But not as important as me wearing Oliver's favorite pea coat.

— Stephen Amell (@StephenAmell) 24 settembre 2016
Episode 100. pic.twitter.com/qLtYyB5e8U

— Stephen Amell (@StephenAmell) 24 settembre 2016
Danielle Panabaker ed Emily Bett prenderanno entrambe parte al prossimo numero di VVV Magazine e postano due dei loro scatti su Instagram:
Once Upon a Time
Dopo mesi di attesa, Once Upon a Time è finalmente ritornato con la sua sesta stagione.
Il piccolo Henry, Jared Gilmore, ha deciso nel frattempo di aprire un canale youtube e ha chiesto ai suoi followers su Twitter qualche consiglio:
I'm gonna finally try to get started on my YouTube channel Please comment all your video ideas

— Jared Gilmore (@Jared_Gilmore) 22 settembre 2016
Nei giorni precedenti alla season premiere, Emilie de Ravin e Lana Parrilla hanno postato varie foto e video per accompagnare i fan fino al 25 settembre.
Continua a leggere per scoprire come hanno trascorso questa settimana gli attori di The Walking Dead e Scream Queens.
The Walking Dead
L'attesissima settima stagione di The Walking Dead tornerà il 23 ottobre in America e il giorno successivo in Italia: fra meno di un mese scopriremo su quale persona Negan ha scatenato tutta la sua furia.
Nel frattempo c'è ancora tempo per i festeggiamenti: lo scorso mercoledì Christian Serratos, Rosita nella serie, ha compiuto 26 anni e le sue co-star Sonequa (Sasha) e Alanna (Tara) le hanno augurato buon compleanno su Instagram:
Al Jimmy Kimmel Live! è tornata la divertente rubrica "Mean Tweets" in cui un gruppo di famose e amate celebrità leggono in diretta alcuni tweet più o meno cattivi che li riguardano.
Tra i protagonisti anche Norman Reedus che ha poi condiviso il suo momento su Instagram:
Le Chanels di Scream Queens ti aspettano nell'ultima pagina!
Scream Queens
Le ragazze di Scream Queens sono tornate da una settimana con la seconda stagione e insieme a loro anche due nuovi e apprezzati attori: John Stamos e Taylor Lautner.
Il 24 settembre i due hanno assistito insieme all'iHeartRadio Music Festival a Las Vegas, all'evento era presente anche Lea Michele che ha poi postato un video dell'esibizione dell'ex co-star Ariana Grande, Chanel #2.
This girl was amazing last night! Love you @ArianaGrande@iHeartRadio #iHeartFestival pic.twitter.com/wsZiwL2Fj7

— Lea Michele (@msleamichele) 25 settembre 2016
Sul set Taylor Lautner si diverte con la Chanel #3, Billie Lourd, e posta questo video su Instagram:
Su Twitter, invece, la Chanel #5 Abigail Breslin si è mostrata molto eccitata, e disperata per non poterlo vedere subito, per il ritorno di Law & Order: Special Victims Unit.
Mariska Hargitay, la protagonista della serie, ha notato i tweet dell'attrice e le ha fatto sapere che, quando vuole, è la benvenuta sul set.
Hey @yoabbaabba @kirstiealley you're both welcome here ANYTIME #ThanksForTheLove #SendingItBackAndThenSome. https://t.co/1IVekr1IXX

— Mariska Hargitay (@Mariska) 23 settembre 2016
Honestly time and place IM THERE https://t.co/0fTuqA3mkt

— Abigail Breslin (@yoabbaabba) 23 settembre 2016
Con Scream Queens vi salutiamo e vi diamo appuntamento alla prossima settimana con la Social Week!
Qui puoi trovare gli ascolti della scorsa settimana e gli ultimi spoiler sulle serie tv del momento!