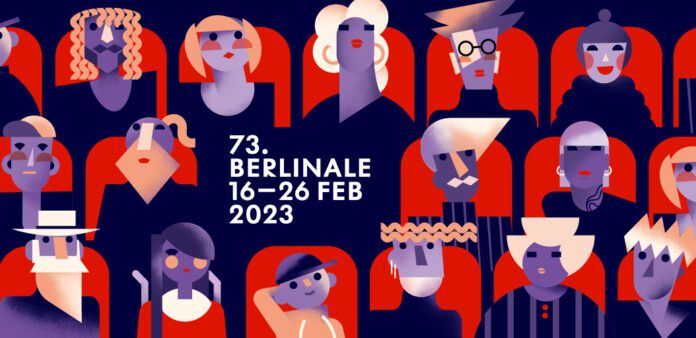 Una scaletta molto internazionale e d'essai, con una forte attenzione al cinema politico. È ciò che ci attende nel programma della 73ª edizione del Festival internazionale del cinema di Berlino, annunciato questa mattina dal Palazzo della Berlinale dalla direttrice esecutiva Mariette Rissenbeek e il direttore artistico Carlo Chatrian.
La 73ª edizione prenderà il via dal 16 al 26 febbraio 2023 e si aprirà con la prima mondiale di She Came to Me di Rebecca Miller, una commedia romantica interpretata da Peter Dinklage, Marisa Tomei, Joanna Kulig, Brian d'Arcy James e Anne Hathaway. Il film verrà proiettato fuori concorso nella sezione Berlinale Special Gala, sezione nella quale troveremo anche l'atteso Superpower, il documentario realizzato da Sean Penn e Aaron Kaufman sulla guerra russo-ucraina con il presidente ucraino Zelensky. L'Ucraina, che proprio un anno fa, il 24 febbraio, subiva la prima invasione russa avrà un ruolo centrale nei focus del Festival, con tanto di spilla ufficiale con i colori giallo e blu.
L'Italia sarà presente a Berlino con Mario Martone e Andrea di Stefano con i loro Laggiù qualcuno mi ama e L'ultima notte di Amore, presentati nelle sezioni Special, mentre in Concorso troviamo, come unico italiano, il giovane Giacomo Abbruzzese con Disco Boy, girato tra Italia, Francia, Belgio e Polonia. Le mura di Bergamo (The Walls of Bergamo) di Stefano Savona sarà presentato tra i documentari, mentre tra le serie, grande attesa per The Good Mothers di Julian Jarrold ed Elisa Amoruso che ci porteranno nel mondo dell'ndrangheta con un focus tutto al femminile.
Tra i film tedeschi in concorso troviamo le nuove fatiche di Christian Petzold (premio della critica FIPRESCI alla Berlinale 2020 con Undine e Orso d'argento per la migliore regia nel 2012 con Barbara), Celine Song, Christoph Hochhäusler e Margarethe von Trotta, quest'ultima in gara con un altro ritratto potente al femminile sulla poetessa Ingeborg Bachmann interpretata da una sempre più convincente Vicky Krieps (Il corsetto dell'imperatrice).
Nella sezione Special occhi puntati su Golda con Helen Mirren nei panni della premier israeliana Golda Meir e sull'horror fantascientifico di Brandon Cronenberg Infinity Pool, con Alexander Skarsgård e Mia Goth.
Ricordiamo che la giuria internazionale sarà presieduta dall'attrice statunitense Kristen Stewart, mentre l'Orso d'oro alla carriera sarà assegnato a Steven Spielberg, al quale sarà dedicata la sezione "Homage".
Questo, nel dettaglio, il programma di Berlino 73:
Competition (18)
Questi i 18 film che si contenderanno gli Orsi d'oro e d'argento. Sono rappresentate produzioni di 19 Paesi. 15 film sono anteprime mondiali. 6 film sono stati diretti da donne. 11 registi hanno partecipato al festival in precedenza, di cui otto in concorso.
20.000 especies de abejas (20,000 Species of Bees)
by Estibaliz Urresola Solaguren | with Sofía Otero, Patricia López Arnaiz, Ane Gabarain, Itziar Lazkano, Sara Cózar
Spain 2023
World premiere
Bai Ta Zhi Guang (The Shadowless Tower / Der schattenlose Turm)
by Zhang Lu | with Xin Baiqing, Huang Yao, Tian Zhuangzhuang, Nan Ji, Wang Hongwei People's Republic of China 2022
World premiere
Bis ans Ende der Nacht (Till the End of the Night)
by Christoph Hochhäusler | with Timocin Ziegler, Thea Ehre, Michael Sideris Germany 2023
World premiere
BlackBerry
by Matt Johnson | with Jay Baruchel, Glenn Howerton, Matt Johnson, Cary Elwes, Saul Rubinek Canada 2023
World premiere
Disco Boy
by Giacomo Abbruzzese | with Franz Rogowski, Morr Ndiaye, Laëtitia Ky, Leon Lučev
France / Italy / Poland / Belgium 2023
World premiere | Debut film
Le grand chariot (The Plough)
by Philippe Garrel | with Louis Garrel, Damien Mongin, Esther Garrel, Lena Garrel, Francine Bergé France / Switzerland 2022
World premiere
Ingeborg Bachmann – Reise in die Wüste (Ingeborg Bachmann – Journey into the Desert)
by Margarethe von Trotta | with Vicky Krieps, Ronald Zehrfeld, Tobias Resch, Basil Eidenbenz, Luna Wedler Germany / Switzerland / Austria / Luxembourg 2023
World premiere
Irgendwann werden wir uns alles erzählen (Someday We'll Tell Each Other Everything)
by Emily Atef | with Marlene Burow, Felix Kramer, Cedric Eich
Germany 2023
World premiere
Limbo
by Ivan Sen | with Simon Baker, Rob Collins, Natasha Wanganeen, Nicholas Hope, Mark Coe Australia 2023
World premiere
Mal Viver (Bad Living)
by João Canijo | with Anabela Moreira, Rita Blanco, Madalena Almeida, Cleia Almeida, Vera Barreto Portugal / France 2023
World premiere
Manodrome
by John Trengove | with Jesse Eisenberg, Adrien Brody, Odessa Young, Sallieu Sesay, Phil Ettinger United Kingdom / USA 2022
World premiere
Music
by Angela Schanelec | with Aliocha Schneider, Agathe Bonitzer, Marisha Triantafyllidou, Agyris Xafis Germany / France / Serbia 2023
World premiere
Past Lives
by Celine Song | with Greta Lee, Teo Yoo, John Magaro USA 2022
International premiere | Debut film
Roter Himmel (Afire)
by Christian Petzold | with Thomas Schubert, Paula Beer, Langston Uibel, Enno Trebs, Matthias Brandt Germany 2023
World premiere
Sur l'Adamant (On the Adamant)
by Nicolas Philibert
France / Japan 2022
World premiere | Documentary form
The Survival of Kindness (Das Überleben der Freundlichkeit)
by Rolf de Heer | with Mwajemi Hussein, Deepthi Sharma, Darsan Sharma Australia 2022
International premiere
Suzume
by Makoto Shinkai
Japan 2022
International premiere | Animation
Tótem
by Lila Avilés | with Naíma Sentíes, Monserrat Marañon, Marisol Gasé, Saori Gurza, Teresita Sánchez Mexico / Denmark / France 2023
World premiere
Encounters (16)
La sezione competitiva Encounters 2023 comprende 16 film, tutti in anteprima mondiale. Sono presenti quattro opere prime e un documentario d'esordio. Sono rappresentati 21 Paesi. Sei film sono stati diretti da donne.
Adentro mío estoy bailando (The Klezmer Project)
by Leandro Koch, Paloma Schachmann | with Leandro Koch, Paloma Schachmann Argentina / Austria 2023
World premiere | Debut film
The Adults
by Dustin Guy Defa | with Michael Cera, Hannah Gross, Sophia Lillis USA 2023
World premiere
El eco (The Echo / Das Echo)
by Tatiana Huezo
Mexico / Germany 2023
World premiere | Documentary form
Here
by Bas Devos | with Stefan Gota, Liyo Gong Belgium 2023
World premiere
Im toten Winkel (In the Blind Spot)
by Ayşe Polat | with Katja Bürkle, Ahmet Varlı, Çağla Yurga, Aybi Era, Maximilian Hemmersdorfer Germany 2023
World premiere | Documentary form
Kletka ishet ptitsu (The Cage is Looking for a Bird)
by Malika Musaeva | with Khadizha Bataeva, Madina Akkieva, Fatima Elzhurkaeva, Rita Merzhoeva, Magomed Alhastov
France / Russian Federation 2023
World premiere | Debut film
Mon pire ennemi (My Worst Enemy)
by Mehran Tamadon | with Zar Amir Ebrahimi France / Switzerland 2023
World premiere | Documentary form
Müanyag égbolt (White Plastic Sky)
by Tibor Bánóczki, Sarolta Szabó | with Tamás Keresztes, Zsófia Szamosi, Géza Hegedűs D., Judit Schell, István Znamenák
Hungary / Slovakia 2023
World premiere | Animation
mul-an-e-seo (in water)
by Hong Sangsoo | with Shin Seokho, Ha Seongguk, Kim Seungyun South Korea 2023
World premiere
Mummola (Family Time)
by Tia Kouvo | with Ria Kataja, Elina Knihtilä, Leena Uotila, Tom Wentzel, Jarkko Pajunen Finland / Sweden 2023
World premiere | Debut film
Le mura di Bergamo (The Walls of Bergamo)
by Stefano Savona
Italy 2023
World premiere | Documentary form
Orlando, ma biographie politique (Orlando, My Political Biography)
by Paul B. Preciado
France 2023
World premiere | Debut film | Documentary form
Samsara
by Lois Patiño | with Amid Keomany, Toumor Xiong, Simone Milavanh, Mariam Vuaa Mtego, Juwairiya Idrisa Uwesu
Spain 2023
World premiere
Shidniy front (Eastern Front)
by Vitaly Mansky, Yevhen Titarenko Latvia / Czechia / Ukraine / USA 2023 World premiere | Documentary form
Viver Mal (Living Bad)
by João Canijo | with Nuno Lopes, Leonor Silveira, Beatriz Batarda Portugal / France 2023
World premiere
Xue yun (Absence)
by Wu Lang | with Lee Kang-Sheng, Li Meng, Ren Ke, Liang Wanling People's Republic of China 2023
World premiere | Debut film
Berlinale Special Gala Films (9)
Golda
by Guy Nattiv | with Helen Mirren, Camille Cottin, Liev Schreiber United Kingdom 2022
World premiere
Kiss the Future
by Nenad Cicin-Sain
USA / Ireland 2023
World premiere | Documentary form
L'ultima notte di Amore (Last Night of Amore)
by Andrea Di Stefano | with Pierfrancesco Favino, Linda Caridi, Antonio Gerardi, Francesco Di Leva Italy 2022
World premiere
Seneca (Seneca – On the Creation of Earthquakes)
by Robert Schwentke | with John Malkovich, Louis Hofmann, Geraldine Chaplin, Lilith Stangenberg, Samuel Finzi
Germany / Morocco 2022
World premiere
She Came to Me
by Rebecca Miller | with Peter Dinklage, Marisa Tomei, Joanna Kulig, Brian d'Arcy James, Anne Hathaway USA 2023
World premiere
Sonne und Beton (Sun and Concrete)
by David Wnendt | with Levy Rico Arcos, Vincent Wiemer, Aaron Maldonado-Morales Germany 2023
World premiere
Superpower
by Sean Penn, Aaron Kaufman | with Sean Penn, Volodymyr Zelensky USA 2022
World premiere | Documentary form
TÁR
by Todd Field | with Cate Blanchett, Nina Hoss, Noémie Merlant, Sophie Kauer USA 2022
German premiere
Untitled Boris Becker Documentary
by Alex Gibney
United Kingdom / USA 2023
World premiere | Documentary form
Berlinale Special Films (8)
Infinity Pool
by Brandon Cronenberg | with Alexander Skarsgård, Mia Goth, Cleopatra Coleman Canada 2022
European premiere
Kill Boksoon
by Byun Sung-hyun | with Jeon Do-yeon, Sol Kyung-gu, Kim Si-A, Esom, Koo Kyo-hwan South Korea 2023
World premiere
Laggiù qualcuno mi ama (Massimo Troisi: Somebody Down There Likes Me)
by Mario Martone
Italy 2023
World premiere | Documentary form
Loriots große Trickfilmrevue (Loriot's Great Cartoon Revue)
by Peter Geyer, Loriot | with Loriot
Germany 2023
World premiere | Animation
#Manhole
by Kazuyoshi Kumakiri | with Yuto Nakajima, Nao, Kento Nagayama Japan 2023
International premiere
Ming On (Mad Fate)
by Soi Cheang | with Lam Ka Tung, Yeung Lokman, Ng Berg, Ng Wing Sze, Chan Charm Man Peter Hong Kong, China 2022
World premiere
Talk to Me
by Danny Philippou, Michael Philippou | with Sophie Wilde, Alexandra Jensen, Joe Bird, Otis Dhanji, Miranda Otto
Australia 2022
European premiere
Der vermessene Mensch
by Lars Kraume | with Leonard Scheicher, Girley Charlene Jazama, Peter Simonischek, Sven Schelker Germany 2022
World premiere
Berlinale Series (8)
Agent
by Nikolaj Lie Kaas (Creator), Nikolaj Lie Kaas (Director) | with Esben Smed, Selma Sol í Dali Pape, Julie Agnete Vang, Nikolaj Coster-Waldau, Ulrich Thomsen
Denmark 2023
World premiere | Broadcaster: TV2 | 2/8 episodes
Arkitekten (The Architect)
by Kerren Lumer-Klabbers (Director) | with Eili Harboe, Fredrik Stenberg D-S, Ingrid Unnur Giæver, Alexandra Gjerpen, Petronella Barker
Norway 2023
World premiere | Debut film | Broadcaster: Viaplay Group | 4/4 episodes
Bad Behaviour
by Corrie Chen (Director) | with Jana McKinnon, Markella Kavenagh, Yerin Ha, Erana James, Melissa Kahraman Australia 2023
International premiere | Broadcaster: Stan | 2/4 episodes
Dahaad (Roar)
by Reema Kagti, Zoya Akhtar (Creators), Reema Kagti (Showrunner), Reema Kagti, Ruchika Oberoi (Directors) | with Sonakshi Sinha, Vijay Varma, Gulshan Devaiah, Sohum Shah
India 2023
World premiere | 2/8 episodes
The Good Mothers
by Julian Jarrold, Elisa Amoruso (Directors) | with Gaia Girace, Valentina Bellè, Barbara Chichiarelli, Simona Distefano, Micaela Ramazzotti
United Kingdom / Italy 2023
World premiere | Broadcaster: Disney+ | 2/6 episodes
Der Schwarm (The Swarm)
by Barbara Eder, Luke Watson, Philipp Stölzl (Directors) | with Cécile de France, Alexander Karim, Leonie Benesch, Joshua Odjick
Germany / Belgium 2023
Berlinale Series (Out of competition) | World premiere | Broadcaster: ZDF, France Télévisions, Rai, Viaplay Group, Hulu Japan, ORF, SRF | 3/8 episodes
Spy/Master
by Adina Sădeanu, Kirsten Peters (Creators), Christopher Smith (Director) | with Alec Secăreanu, Parker Sawyers, Svenja Jung, Ana Ularu, Laurențiu Bănescu
Romania / Germany 2023
World premiere | Broadcaster: HBO Max, Warner TV Serie | 2/6 episodes
Why Try to Change Me Now
by Yu Gong (Creator), Xiaohui Wang (Showrunner), Dalei Zhang (Director) | with Zijian Dong, Qing Hai, Tian Qiu, Baoshi Dong, Chen Zhang
People's Republic of China 2023
International premiere | Broadcaster: iQIYI, Inc | 2/6 episodes
LEGGI ANCHE: Berlinale 2023, Valentina Bellè e Micaela Ramazzotti tra le Series
Qui di seguito il link della conferenza: