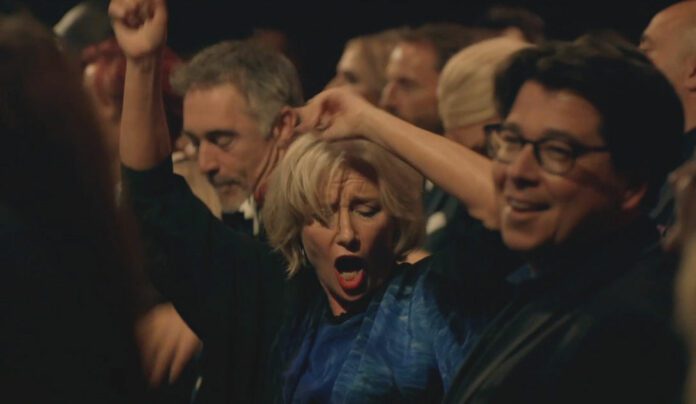 Senza nulla togliere alla splendida voce e presenza scenica della cantante protagonista della serata, durante lo speciale concerto live An Audience With Adele del Palladium di Londra sembra esser stato quello di Emma Thompson lo show che ha colpito di più l'immaginazione del pubblico.
Emma Thompson e Greg Wise sono ufficialmente cittadini di Venezia
Tra gli ospiti di riguardo dell'evento, l'attrice di Casa Howard e la saga di Harry Potter aveva regalato alla stessa Adele un momento inatteso, invitando a sorpresa la signorina McDonald, l'insegnante preferita della artista sul palco che non si aspettava di certo di ritrovarsela davanti, come si vede nell'incredibile estratto dal video della ITV:
We all have that one teacher who changed our life… such a beautiful reunion! ❤️

*PS, would totally buy Alan Carr's version of 'Make You Feel My Love* 🤣@Adele #AnAudienceWithAdele https://t.co/2ZZI2RS0mI pic.twitter.com/hlTOOZKt5j

— ITV (@ITV) November 21, 2021
Ma a conquistare definitivamente la rete è stato il momento di entusiasmo sincero che ha visto la sempre compassata interprete britannica scatenarsi in un ballo da vera fan durante l'esecuzione di 'Rolling in the Deep'. Di seguito i tanti commenti che hanno voluto celebrare un siparietto che ha ricordato quello di Glenn Close in occasione degli ultimi Premi Oscar.
OH MY GOD EMMA THOMPSON #AnAudienceWithAdele pic.twitter.com/uMC2Tq5jAv

— Scott Bryan (@scottygb) November 21, 2021
Emma Thompson is all of us after a few bottles of wine pic.twitter.com/aG7BAxSQVp

— Ryan (@RyanA____) November 21, 2021
Here's every time Emma Thompson danced tonight.

You're welcome. #AnAudienceWithAdele pic.twitter.com/qJP45dbdxi

— Scott Bryan (@scottygb) November 21, 2021
I'm not a betting man but I think Rolling In The Deep is Emma Thompson's favourite Adele song. pic.twitter.com/MHUrwhPJ1E

— SHANE REACTION (@imshanereaction) November 21, 2021
I want to enjoy my life as much as Emma Thompson is enjoying her evening #anaudiencewithadele pic.twitter.com/gvuzD28Y7b

— ★ ANASTAZIA ★ (@__Anastazia__) November 21, 2021