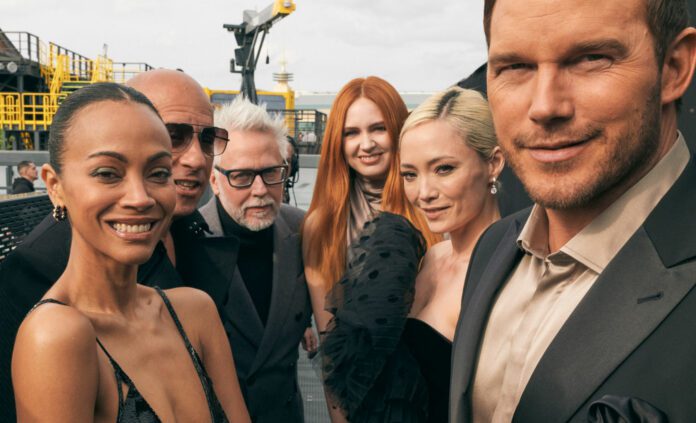 Il 3 maggio saranno nelle nostre sale, ma la marcia di avvicinamento all'Italia degli eroi di Guardiani della Galassia Vol. 3 continua. E in attesa di incontrarli nei prossimi giorni, vi offriamo le foto dell'evento esclusivo ospitato da Disneyland Parigi e una clip censurata nella quale lo Starlord di Chris Pratt si lascia scappare una colorita espressione.
LEGGI ANCHE: Guardiani della Galassia Vol. 3, il ritorno di Stallone nel nuovo spot tv
Un assaggio di quel che vedremo, e che promette di essere perfettamente in linea con quanto mostrato nei capitoli precedenti e con il tono della trilogia. Della quale questo ultimo film è stato descritto come "perfetta conclusione".
In generale, le prime reazioni arrivate da Oltreoceano sembrano concordi nel commentare entusiasticamente il terzo film del franchise iniziato nel 2014 (e continuato con il Vol. 2 del 2017), definito – tra l'altro – come il miglior Cinecomic Marvel dal Avengers: Endgame del 2019
#MarvelStudios has already begun promoting GUARDIANS OF THE GALAXY VOL. 3's positive critic reactions! Full list of reactions: https://t.co/pQtgeivEGX pic.twitter.com/LYOk4Lp25Q

— MCU – The Direct (@MCU_Direct) April 22, 2023
Pochi giorni ancora, dunque, per poter giudicare con i propri occhi il tanto atteso Volume 3, anticipato dallo speciale natalizio del quale a suo tempo aveva parlato lo stesso James Gunn. Sempre prodigo di spiegazioni, anticipazioni e chicche – soprattutto sui social – e felice di prestarsi a bagni di folla come quello condiviso con i vari Chris Pratt, Zoe Saldaña, Karen Gillan, Pom Klementieff e Vin Diesel in occasione dell'evento di Gala europeo al Marvel Avengers Campus presso Disneyland Paris.
LEGGI ANCHE: Guardiani della Galassia Holiday Special, James Gunn: «è un cavallo di Troia per intrufolarmi nel Volume 3»
All'Avengers Campus – creato da Tony Stark in persona per scoprire, reclutare e addestrare la prossima generazione di supereroi – i tanti ospiti sono diventati "reclute" al fianco dei più celebri personaggi Marvel attraverso esperienze emozionanti come la Spider-Man WEB Adventure e Avengers Assemble: Flight Force.
Sinossi:
Il nostro gruppo di improbabili supereroi si sta ambientando a Knowhere. Ma non passa molto tempo prima che le loro vite vengano stravolte dal turbolento passato di Rocket. Peter Quill, ancora provato dalla perdita di Gamora, deve riunire la sua squadra intorno a sé in una pericolosa missione per salvare la vita di Rocket, una missione che, se non sarà portata a termine con successo, potrebbe portare alla fine dei Guardiani così come li conosciamo.
Le foto del Gala europeo al Marvel Avengers Campus presso Disneyland Paris
Il Gala di Guardiani della Galassia Vol. 3