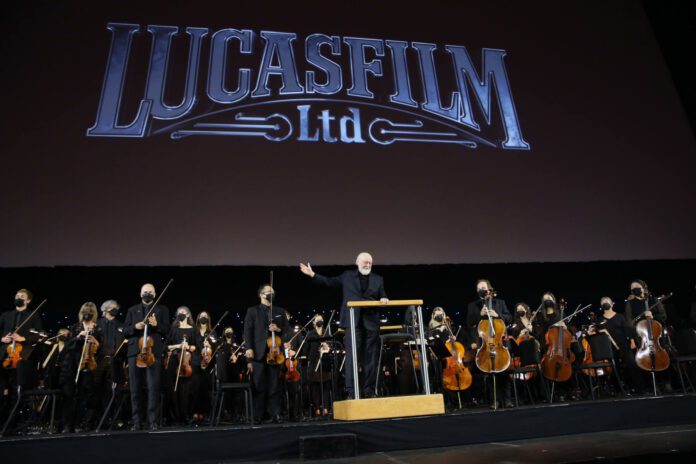 In occasione della Star Wars Celebration ad Anaheim, Lucasfilm ha presentato i nuovi contenuti in arrivo e le numerose sorprese riservate ai partecipanti, tra cui un primo emozionante sguardo alle nuove serie Disney+ Andor e Willow, un'inaspettata anticipazione della terza stagione di The Mandalorian, l'annuncio di Star Wars: Skeleton Crew, una nuova serie in esclusiva per Disney+ con Jude Law, una prima foto del nuovo film di Indiana Jones e molto altro ancora.
Come potete vedere di seguito, nelle singole presentazioni dei titoli anticipati (incluso il prossimo Indiana Jones), spesso arricchiti da trailer e video oltre che dalle foto dell'evento, con Ewan McGregor, Hayden Christensen, Ron Howard, Harrison Ford e molti altri…
LEGGI ANCHE: Obi Wan Kenobi, Ewan McGregor: «Lavorare di nuovo con Hayden è stato adorabile»
OBI-WAN KENOBI
Dopo un'entrata in scena sulle note di "Duel of the Fates", le star Ewan McGregor e Hayden Christensen sono state raggiunte dalla produttrice esecutiva Kathleen Kennedy, dalla regista Deborah Chow e dai membri del cast Moses Ingram e Rupert Friend. Dopo aver introdotto la serie Obi-Wan Kenobi, è stato annunciato a sorpresa che ci sarebbe stata un'anteprima dei primi due episodi con tutto il pubblico invitato.
Per la gioia del pubblico, al termine dello Studio Showcase di Lucasfilm, l'iconico compositore John Williams ha condotto la Pacific Symphony Orchestra sulle note della "Obi-Wan Theme", suonata dal vivo per la prima volta in assoluto.
LEGGI ANCHE: Obi-Wan Kenobi, i fumetti Panini Comics da leggere prima di vedere la serie
ANDOR
Per parlare di Andor, la nuova serie in arrivo per Disney+, erano presenti la star Diego Luna, che tornerà nei panni di Cassian Andor, il creatore e showrunner Tony Gilroy, la produttrice esecutiva Sanne Wohlenberg e Genevieve O'Reilly che interpreterà nuovamente Mon Mothma. Per la gioia dei fan, Luna ha svelato il nuovo poster e mostrato il teaser trailer della serie, che – a partire dal 31 agosto – esplorerà un'epoca piena di pericoli, inganni e intrighi. Cassian Andor intraprenderà un cammino che lo trasformerà nell'eroe ribelle che sfiderà il malvagio Impero Galattico.
LEGGI ANCHE: Andor, trailer e data d'uscita della serie prequel di Rogue One: A Star Wars Story
Diego Luna tornerà nei panni di Cassian Andor, affiancato da Genevieve O'Reilly, Stellan Skarsgård, Adria Arjona, Denise Gough e Kyle Soller. I produttori esecutivi sono Kathleen Kennedy, Sanne Wohlenberg, Diego Luna e Michelle Rejwan. Tony Gilroy è il creatore e showrunner.
Di seguito, le foto e le presentazioni di Willow, Ahsoka, The Mandalorian 3 e Indiana Jones (pag. 2) >>>
Le foto della Star Wars Celebration