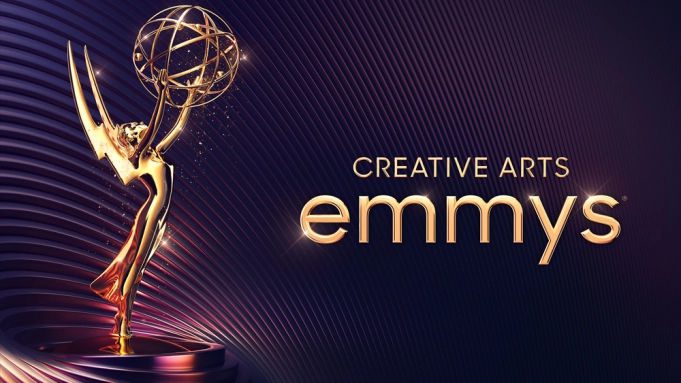 E' stata la serata dai molti protagonisti, ma certo resterà nella storia la vittoria della prima 'Outstanding Guest Actress' coreana Lee Yoo-mi di Squid Game, una produzione che ha segnato l'immaginario di questi anni, diventando iconica e conquistando una seconda – attesissima – stagione. Con lei sono tanti i nomi e i titoli a esser usciti vincitori dalla cosiddetta Night 2 dei Creative Arts Emmy 2022, da Cip e Ciop e The White Lotus ai Beatles ed Euphoria.
.@SquidGame (@Netflix) actress Lee You-mi answers questions at the Creative Arts #Emmys following her win for Guest Actress in a Drama Series! #Emmys2022 🌟😍🫶 pic.twitter.com/kCi06Hb729

— Television Academy (@TelevisionAcad) September 5, 2022
Cinque statuette per la docuserie Disney+ di Peter Jackson The Beatles: Get Back e per lo special live di Adele: One Night, anche se tra i tanti spicca la Outstanding Music Supervision dell'episodio 'Capitolo quattro: Caro Billy' di Stranger Things, caratterizzato dal successo della Running Up that Hill di Kate Bush.
LEGGI ANCHE: Grazie a Stranger Things Kate Bush torna in cima alle classifiche (VIDEO)
Con i riconoscimenti raccolti da Barry (tre come per il Only Murders in the Building di Hulu, in Italia su Disney+), HBO conquista la prima posizione tra le piattaforme, con 17 Emmy. Quasi il doppio degli inseguitori, guidati da Netflix (11), Hulu (8) e Apple TV+ (4).
LEGGI ANCHE: Emmy Awards 2021, l'hashtag #EmmysSoWhite diffonde la polemica
In attesa dei Primetime Emmy Awards del 12 settembre, e di vedere cosa ci riserveranno dopo le polemiche dell'anno scorso…
Di seguito i candidati e i vincitori di tutte le categorie:
Outstanding Actor In A Short Form Comedy Or Drama Series
Anacostia • Secrets, Lies & Rollercoaster Rides
Anthony A. Anderson as Sean Williams-Grey
Bill Burr Presents Immoral Compass • Part 10: Closure
Bill Burr as Rick
State Of The Union • Kopi Luwak
Brendan Gleeson as Scott
I Think You Should Leave With Tim Robinson – ***WINNER***
Tim Robinson as Various Characters
Words With Ike (Cake) • Gubbins
Ikechukwu Ufomadu as Ikechukwu Ufomadu
Outstanding Actress In A Short Form Comedy Or Drama Series
Intersection • Generational Wealth
Jacinte Blankenship as Jenaya
State Of The Union • Kopi Luwak
Patricia Clarkson as Ellen – ***WINNER***
Desi Lydic Foxsplains • Desi Lydic Foxsplains: Vaccine Mandates
Desi Lydic as Desi Lydic
Cooper's Bar • Episode 106
Rhea Seehorn as Kris Latimer
Bridesman • Horny Tears
Sydnee Washington as Judith
Outstanding Casting For A Comedy Series
Abbott Elementary – ***WINNER***
Wendy O'Brien, CSA, Casting by
Barry
Sherry Thomas, CSA, Casting by
Sharon Bialy, CSA, Casting by
Curb Your Enthusiasm
Allison Jones, Casting by
Ben Harris, Casting by
Hacks
Jeanne McCarthy, CSA, Casting by
Nicole Abellera Hallman, CSA, Casting by
Only Murders In The Building
Bernard Telsey, CSA, Casting by
Tiffany Little Canfield, CSA, Casting by
Ted Lasso
Theo Park, Casting by
Outstanding Casting For A Drama Series
Euphoria
Jessica Kelly, CSA, Casting by
Mary Vernieu, CSA, Casting by
Bret Howe, CSA, Casting by
Jennifer Venditti, CSA, Original Casting/Location Casting by
Ozark
Alexa L. Fogel, CSA, Casting by
Tara Feldstein Bennett, CSA, Location Casting
Chase Paris, CSA, Location Casting
Severance
Rachel Tenner, CSA, Casting by
Bess Fifer, Location Casting
Stranger Things
Carmen Cuba, Casting by
Tara Feldstein Bennett, CSA, Location Casting
Chase Paris, CSA, Location Casting
Succession – ***WINNER***
Avy Kaufman, CSA, Casting by
Francine Maisler, CSA, Original Casting by
Yellowjackets
Junie Lowry Johnson, CSA, Casting by
Libby Goldstein, Casting by
Corinne Clark, CSA, Location Casting
Jennifer Page, CSA, Location Casting
Outstanding Casting For A Limited Or Anthology Series Or Movie
Dopesick
Avy Kaufman, CSA, Casting by
Erica Arvold, CSA, Location Casting
The Dropout
Jeanie Bacharach, CSA, Casting by
Mark Rutman, Casting by
Alison Goodman, CSA, Casting by
Inventing Anna
Linda Lowy, CSA, Original Casting by
Jamie Castro, CSA, Original Casting by
Allison Estrin, CSA, Casting by
Henry Russell Bergstein, CSA, Casting by
Juliette Ménager, Location Casting
Simone Bär, CSA, Location Casting
Alexandra Montag, Location Casting
Pam & Tommy
Mary Vernieu, CSA, Casting by
Lindsay Graham Ahanonu, CSA, Casting by
The White Lotus – ***WINNER***
Meredith Tucker, Casting by
Katie Doyle, Location Casting
Di seguito il resto delle categorie e dei premiati >>>