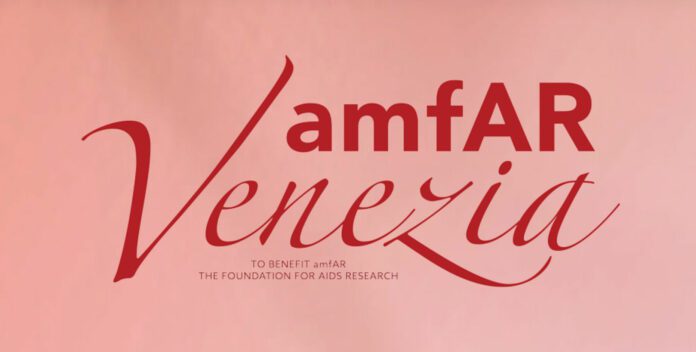 I primi Red Carpet di questa 80. Mostra Internazionale d'Arte Cinematografica di Venezia (qui tutti i Daily dal Lido e il nostro speciale, in costante aggiornamento) avevano già fugato il timore che potesse essere una edizione povera di ospiti, ma la passerella del consueto Gala amfAR ha confortato ampiamente gli appassionati dell'aspetto più glam del festival. Camila Mendes, Jesse Williams, Bella Thorne, Milla Jovovich, Michelle Rodriguez, Kate Beckinsale, Alejandro Nones, Luke Evans e molti altri hanno sfilato davanti ai fotografi, prima di partecipare all'appuntamento organizzato dalla fondazione per la ricerca sull'AIDS.
LEGGI ANCHE: Venezia 80, il giorno di Mads Mikkelsen (e le prime foto dal Lido)
Un evento ospitato alla Scuola Grande di Santa Maria della Misericordia che ha visto gli invitati assistere agli show live di Leona Lewis e Rita Ora (al Gala col marito Taika Waititi) oltre a partecipare a un'asta dal vivo di opere d'arte contemporanea (qui il catalogo). Non l'unica – viste le foto che trovate in fondo all'articolo, relative al party del film Adagio con Toni Servillo e Pierfrancesco Favino e alla premiazione del Filming Italy – ma una "serata di festa" speciale, come l'ha definita Kevin Robert Frost, CEO di amfAR, resa possibile da "sponsor e generosi sostenitori" tra i quali spiccano la presenza del Red Sea Film Festival (a Venezia 80 anche in altre vesti) e di Iervolino & Lady Bacardi tra i "Benefactors".
Film producer @IervolinoAndrea is "proud to be a part of this change" that amfAR is making in the fight to #CureAIDS #amfARVenezia pic.twitter.com/xyjXLlpwqe

— amfAR (@amfAR) September 4, 2023
Nella quale c'è stato spazio anche per la consegna del prestigioso Award of Inspiration alla regista Ava DuVernay (Selma), a Venezia 80 con Origin, il primo film di una donna afro-americana a partecipare in Concorso, nel quale si racconta la vita della scrittrice vincitrice del Premio Pulitzer Isabel Wilkerson a partire dal suo libro "Caste: The Origins of Our Discontents".

Di seguito alcune delle foto e dei momenti più belli, della serata e delle star protagoniste del Gala amfAR 2023, ma non solo…
Grateful for @KateBeckinsale's dedication to amfAR's mission 🙏 #amfARVenezia #CureAIDS

📸: @GettyImages pic.twitter.com/2sA8XSuVTo

— amfAR (@amfAR) September 3, 2023
New post (Rita Ora puts on a very loved-up display as she shares a kiss with husband Taika Waititi before performing at the 80th Venice Film Festival amfAR gala) has been published on ExactNewz – https://t.co/ungGgzDHax pic.twitter.com/tWRyVNW8pl

— ExactNewz (@ExactNewz) September 4, 2023
📸 | Rita Ora attends the amfAR Gala in Venice pic.twitter.com/PXE9c7Rx0P

— Rita Ora Street Team (@RitaOStreetTeam) September 3, 2023
Quanto è bellissima 🥰❤ #giuliadelellis #amfar #venezia80 pic.twitter.com/f1FBFWOIC1

— Martina (@martinamarty194) September 3, 2023
Mohammed Al Turki, and Michelle Rodriguez attends the amfAR Gala Venezia 2023 during the 80th Venice International Film Festival on September 03, 2023 in Venice, Italy pic.twitter.com/nCZwvFQOty

— Celeb Scoop (@celebfashionnnn) September 4, 2023
📸 Bella Thorne at amfAR Gala Venezia | September 03, 2023 (+86 photos)
🔗https://t.co/lpXI7BEmhi pic.twitter.com/Nx5ExQPSbf

— Bella Thorne Vault (@thornephotos) September 4, 2023
Luke Evans speaks at the amfAR Gala Venezia 2023 presented by Mastercard and Red Sea International Film Festival on September 3, 2023 in Venice, Italy. (Footage by Rishan Pithwa/Getty Images for amfAR)#lukeevans #thereallukeevans pic.twitter.com/q2Zs0DT0Gk

— LukeEvans_News (@LukeEvans_News) September 3, 2023
HERMOSA! — Camila Mendes en la Gala amfAR Venezia 2023 en Venecia, Italia. #VeniceFilmFestival pic.twitter.com/PeJy2VgQix

— Camila Mendes Argentina (@CamilaMendesAR) September 3, 2023
@BellaThorne is SO ready to raise that paddle and start "bidding, bidding, bidding!" in support of amfAR's mission to #CureAIDS #amfARVenezia pic.twitter.com/9RPMjy9bs1

— amfAR (@amfAR) September 3, 2023
Carmela Generali attends the amfAR Gala Venezia 2023 during the 80th Venice International Film Festival on September 03, 2023 in Venice, Italy pic.twitter.com/Uu6aNWIGhh

— Celeb Scoop (@celebfashionnnn) September 4, 2023
📸 | Rita Ora posing with Kate Beckinsale at the amfAR Gala in Venice pic.twitter.com/9fqJ3vbJFP

— Rita Ora Street Team (@RitaOStreetTeam) September 3, 2023
La Misericordia. #amfar
An epic evening.
Tks @Chopard pic.twitter.com/4B6SJAVNs2

— Elinor Sachs von Opel  (@byredo2020) September 3, 2023
📹 | Rita Ora performing 'Let You Love Me' at the amfAR Gala in Venice
via vasjmorgan pic.twitter.com/QHhxHAA94f

— Rita Ora Street Team (@RitaOStreetTeam) September 3, 2023
.@leonalewis performed Somewhere Over The Rainbow AND Now We Are Free in the same evening – that amfAR audience were so blessed 🥹🥹 (video credit: LoudNetizen & denisefontanini) pic.twitter.com/8wbqrewFXn

— Amy (@Burtini) September 4, 2023
Le foto del Party di Adagio all'Hotel Des Bains:
Le foto del party di Adagio
Alcuni ospiti del Filming Italy a Venezia 80: