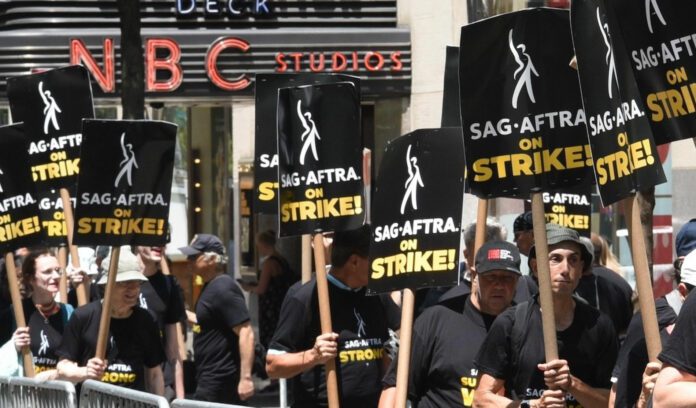 Mentre si inseguono le voci di un possibile accordo tra Studios e – per ora – i sindacati degli sceneggiatori, cresce il numero dei progetti approvati dalla SAG-AFTRA e la lista aggiornata dei titoli di film che hanno avuto diversi tipi di 'permesso' dall'associazione e che potremo vedere in un prossimo futuro, soprattutto se continueranno a essere rimandati o addirittura bloccati quelli più volte citati delle grandi produzioni. Ben 265 (ai quali vanno aggiunte 14 serie tv), come vedete di seguito, tra i quali non può passare inosservata la presenza del Partenope del nostro Paolo Sorrentino o dei prossimi film di Peter Greenaway e Guy Ritchie (per il quale sono stati concesse liberatorie per casting, provini e viaggi), come anche del Ferrari di Michel Mann, il Coup! con Peter Sarsgaard alle Giornate degli Autori o la Priscilla di Sofia Coppola che saranno a Venezia.
LEGGI ANCHE: Paolo Sorrentino, l'abbraccio con Robert De Niro sul set a Napoli
Oltre a questi e alle new entry della lunga lista, vale la pena ricordare i già citati Mother Mary, con Anne Hathaway (anche in She Came to Me con Mena Suvari e Peter Dinklage), Death of a Unicorn, con Paul Rudd e Jenna Ortega, Rivals of Amziah King, con Matthew McConaughey, Flight Risk, diretto da Mel Gibson con Mark Wahlberg, Wildcat di Ehtan Hawke e Dust Bunny con Mads Mikkelsen e Sigourney Weaver.
Un elenco in continuo aggiornamento – come si può vedere dal PDF disponibile sul sito dell'associazione di categoria – nel quale si ritrovano anche l'esordio alla regia della figlia d'arte Destry Allyn Spielberg (Please Don't Feed the Children) o il film su "l'ultima danza di Muhammad Ali" (che ha cercato i fondi per gli ultimi giorni di riprese su Indiegogo), l'Anniversary con Diane Lane, The Watchers con Dakota Fanning, il Blackwater Lane con Minka Kelly e Dermot Mulroney o Blood Knot con Michael Douglas, King Ivory con Ben Foster e Melissa Leo e The Penguin & The Fisherman con Jean Reno e la Adriana Barraza di Blue Beetle.
Ma anche la Lily Gladstone di Killers of the Flower Moon, che rivedremo in The Unknown Country e tanti altri, da Luke Evans (Week End Escape Project) e Andrè Holland (Exhibiting Forgiveness) a Tom Hiddleston e Mark Hamill (The Life of Chuck), Meg Ryan e David Duchovny (What Happens Later), Dave Bautista e Sofia Boutella (The Killer's Game), Vera Farmiga (The Leader), Glenn Close (The Summer Book), Brian Austin Green (Bootyology e Chasing Midnight), Viola Davis (G20), Miranda Richardson (The Yellow Tie), Boyd Holbrook e Samuel L. Jackson (Last Meals) fino a Nicolas Cage, Alicia Witt e Maika Monroe (Longlegs). Su tutti, l'All Star Origin of Species di Ron Howard, con Ana De Armas, Jude Law e Alicia Vikander.
LEGGI ANCHE: G20, Viola Davis abbandona il progetto nonostante la deroga SAG-AFTRA
Tutti attori che, nel pieno rispetto di quanto stabilito in questo momento di protesta e confronto, potranno "lavorare su queste produzioni senza violare i termini dello sciopero", sia facendo – come stabilito a fine luglio – "audizioni" o "impegnandosi in trattative riguardanti il ​​casting". Anche se per quanto riguarda il viaggiare per promuovere (o altro) detti titoli, la gilda rimanda ad accordi singoli, come quelli già citati all'inizio relativi ai film che vedremo alla 80. Mostra Internazionale d'Arte Cinematografica di Venezia. Accordi provvisori, validi solo per le manifestazioni specificate e che non includono necessariamente la possibilità per i distributori di acquisire i film presentati.
Questi i titoli di film e serie approvati dalla SAG-AFTRA:

The 3_2 Pulldown
The 4:30 Movie
47 Days
Adult Best Friends
Aguadilla
Ali 1978: The Butterfly's Last Dance
American Deadbolt
American Nightmare
Angel's Peak
Anniversary
The Ar Racist
Armadilla
Armored
Asian Persuasion
The Assessment
The Astronaut
Average Joe
Back on the Strip
Bad Haircut
The Ballad of Suzanne Cesaire
The Beldham
Ben and Suzanne: A Reunion in 4 Parts
Beneath the Grass
Beyond the Walls
Bibi
Bird and the Bee
The Bishop
Blackwater Lane
Blood Knot
Blue Rose
Bob Trevino Likes It
Bobcat Moretti Part 2
Bootyology
Breakwater
Bride Hard
Buffalo Daze
Buster Brooks
By The Grape Of God
The Cafone
Catharsis
Chasing Midnight
Chimera
Cobalt
Coming Together
Condition of Return
Conduit
Copperhead
Cottonmouth
Coup!
Crescent City
Crust
Cuando Volvimos a la Tierra
Cub Scout
Daddio
Daddy
Dance First
Darkness Trail
Dead Guy
Death of a Unicorne
Decibel
Desert Dawn
A Desert
Didi
DogMan
Don't Let's Go To The Dogs Tonight
Don't Move
Don't Trip
Dos Lados
Dottie
Draft Night
Dream Devil
Dust Bunny
The Dutchman
East of Wall
East Texas Oil
El Tonto por Cristo
Escaping Ohio
Every Other Weekend
Excelsis
Exhibiting Forgiveness
Eyes in the Trees
F-Plus
The Fabulous Four
Fairy
Fancy Florez's Summer Staycation
Fantasy Life
The Feeling that the the Time for Doing Something has Passed
Ferrari
Fleeing
Flight Risk
Floaters
Fluxx
The Fort
Freedom Hair
Friends and Foes
From Ashes
G20
Gaia
Ganymede
Glitter & Doom
Godless
Good Side of Bad (2020)
The Greatest Ever
The Green Fairy
Griffin in Summer
Grizzly Night
Growing Pains
The Gunslinger
Hey Joe!
How I Got There
Ick
If I Had Legs I'd Kick You
If That Mockingbird Don't Sing
In Cold Light
Iron Lung
Isaac
Isle Child
It Came From Within
The Italians
Jules
Jules And Jonas: The Vertical Truth
Jump Scare
Just Breathe
K-Pops!
Keep Quiet
Keyz'
Killing Castro
The Killing Moon
The Killer's Game
King Ivory
King of Hearts
Ladybug
Lake George
Last Meals
The Leader
Leaves of Glass
Legend of the White Dragon
The Lemurian Candidate
Leopardi & Co.
Life Cycle 63
The Life of Chuck
Lilies not for Me
Longlegs
Lousy Carter
Love in Storytown
Love is the Monster
Magic Farm
Magpie Funeral
The Mannequin
Martyr of Gowanus
The Mattachine Family
Memories
Mermaid
The Method
Midnight Oil
Mindtraveler
Mistake
Monica
Mooch
Mother Mary
Mother, May I?
Mountains
Mourning Rock
Mutt
My Hero
My Valentine Wedding
Naked in the Park
Night Talkers
No Right Way
Nuremberg
Obsessed With Light
Oh, Canada
Omaha
Open Wounds
Origin Of Species
Osiris
The Other You
Outen The Light
Pandemonium
A Paracosm
Paradise and Lunch
Partenope
The Penguin and the Fisherman
Please Don't Feed the Children
Postcard From Earth
Presence
Press Your Luck
Priscilla
Publish or Perish
Queen of Knives
Queen of the Ring
Rebel Girl
Redville
Relative Control
Return to Wickensburg (2023)
Riff Raff
The Ritual
Rivals of Amziah King
Roar of the Fire
Rosario
Roses on the Vine
Rotting in the Sun
Save Yourself
Scared Shitless
Scary Tales Anthology
The Second Coming of John Cooper
Sell Out
Shadow Dance
Shakey Grounds
Sharp Corner
She Came to Me
The Shining Hour
The Short Game
Shoulder Dance
Sing Sing
Sod and Stubble
The Sound
Space Bears
Starstruck
Stealing Cars
The Strange Dark
The Summer Book
Sunfish (& Other Stories on Green Lake)
Superthief
Susie Searches
Sydney Vs. Sean
Things Will Be Different
Threads
Til Death… Do You
The Tower
Transamazonia
Tricked & Treated
Triggermen
Under My Skin
The Unknown Country
Until He's Destroyed
Untitled Guy Ritchie Project
Untitled Instant Pot Project
The Untitled Jazzy Project
Untitled Peter Greenaway Project
Untitled Rebuilding Project
Uppercut
The Velocipastor 2
A Very Stinky Summer
Videoheaven
The Watchers
Water for Life
The Wayfinders
Week End Escape Project
Westhampton
What Comes Next
What Happens Later
What Rhymes With Magdalena
What She Doesn't Know
Who Says You Can't Go Home
Who's Watching
Wildcat
The Wilderness
Wildfire
Witchboard
Without Consequence
The Yellow Tie
You Can't Stay Here
Young Claude
Your Lucky Day

SERIE TV
Autobahn (23/24)
The Bar (Pilot)
Beyond Belief: Fact or Fiction (23/24)
The Chosen (23/24)
Fairwood (23/24)
Gray House (2023)
The Green Veil (20/21)
Guns And Grams, The Pizza Connection (pilot)
Hal & Harper (23/24)
Sight Unseen (23/24)
Small Town Big Story (23/24)
Tehran (23/24)
Underdeveloped (23/24)
When Calls The Heart (23/24)